The Brazilian air force has sent one of its Embraer KC-390 Millennium transports to Fairbanks, Alaska, for cold weather testing.
The aircraft arrived just south of the Arctic Circle on 8 February and tests were planned for the duration of the following week, the Brazilian air force said on 10 February. The in-development Boeing 777X commercial airliner is also in Fairbanks for cold weather testing.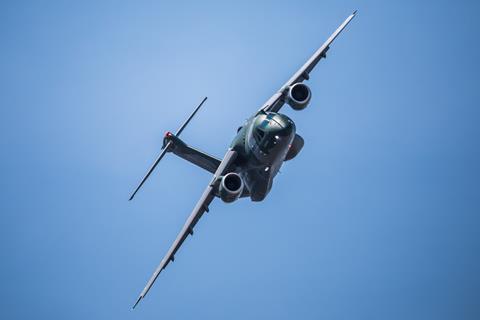 "The test itself serves to verify how the aircraft operates in extreme cold situations that can reach -33°C (-27.4°F)," says the Brazilian air force. "The [isolated] parts of the aircraft and possible cracks caused by the cold will be studied."
Embraer delivered the fourth KC-390 to the Brazilian air force in December. Brasilia has ordered 28 examples of the medium-lift transport in total.
Beyond Brazil, Hungary signed a deal for two KC-390s in November. Portugal ordered five KC-390s in 2019.
Embraer has struggled to gain additional commitments to buy the aircraft beyond an early flurry of letters of intent and orders. The company has 33 letters of intent outstanding that it is working to convert into firm orders. Argentina, Chile, Colombia, the Czech Republic and aviation services firm SkyTech have signed letters of intent.