The Brazilian air force's Saab F-39E Gripen fighter has started a supersonic flight test phase.
The aircraft will be flying from the Gripen Flight Test Center at Embraer's facilities in Gaviao Peixoto in southeast Brazil, the air force said on 3 March.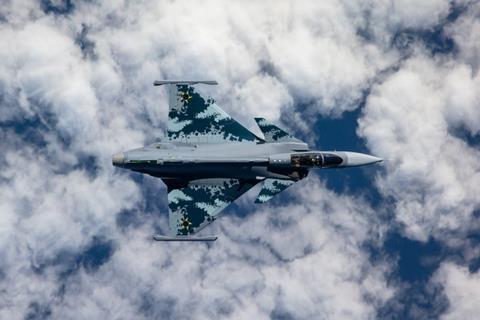 "All flights follow procedures defined by the authorities and are carried out at high altitudes, above [16,000ft]," says the Brazilian air force. "These flights, carried out by Saab, are essential to test the performance and functions of the new aircraft, to continue the certification and acceptance procedures for the aircraft, which arrived in Brazil in September 2020."
The supersonic test flights are scheduled to take place over the next few months, it says.
Other test activities in Brazil are to include flight control systems and climate systems tests. Saab is also to test how the aircraft performs in the Latin American country's tropical climate.
"Unique characteristics of Brazilian aircraft, such as the integration of armaments and the Link BR2 communication system – which provides encrypted data and voice communication between the aircraft – will also be tested in Brazil," says the air force.
In 2014, Brasilia ordered 36 examples of the Gripen E/F, renamed the F-39E/F, for its air force. The acquisition deal includes in-country production of 15 examples of the aircraft, with the rest of the fleet to be built in Sweden. It also includes a technology transfer agreement to train more than 350 Brazilian engineers and technicians in Sweden on the fighter's manufacturing.