The Department of Energy's National Nuclear Security Administration unveiled three new King Air 350ER aircraft at Joint Base Andrews on 18 December to be used to measure air and ground radiation coming from events such as nuclear explosions or accidents.
The aircraft will also be used to conduct baseline surveys of normal radiation levels in preparation for major public events, the National Nuclear Security Administration says on 19 December.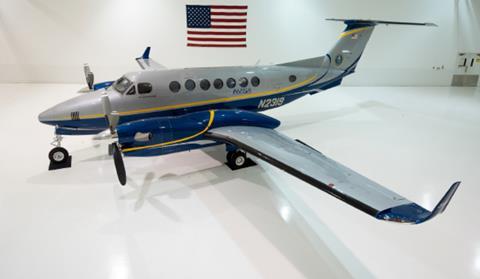 "As part of its dual public safety and national security mission, [Aerial Measuring System] aircraft frequently support security preparations for high-profile events such as presidential inaugurations, the Super Bowl, Boston Marathon and other major public events," says Lisa Gordon-Hagerty, National Nuclear Security Administration administrator. "Although these deployments are not well-known to the public, they're part of a critical apparatus working behind the scenes to keep the American people safe."
The three Textron King Air 350ERs replace three older Beech King Air B-200s, meaning improved reliability, passenger capacity, speed and range, says the National Nuclear Security Administration. The aircraft are to be used within the continental USA, says the agency.
The new aircraft can get "to the incident location faster and with more experts onboard without refueling, which will allow our experts to start collecting data sooner," says the National Nuclear Security Administration. "They have more advanced satellite communications for better real-time telemetry of data to our home team analysts."
Aerial Measuring System teams are based at Nellis Air Force Base in Las Vegas, Nevada, and Joint Base Andrews outside of Washington, DC.
The agency also has two Bell 412 twin-engined helicopters in its fleet. Typically, the agency investigates areas first with the King Air flying 500ft to 1,000ft above ground before taking a closer look with the Bell 412s, which make radiological surveys 50ft to 300ft above ground.