Two Airbus A321LR twinjets are to be modified for troop transport and medical evacuation roles on behalf of the German air force.
The aircraft are to be delivered to maintenance and modification specialist Lufthansa Technik's facilities in Hamburg in August and October next year.
Lufthansa Technik says its VIP and special-mission services arm will carry out the work on the long-range aircraft.
The new jets will be delivered to the air force in 2022. Neither the source of the aircraft, nor the engine type, has been disclosed.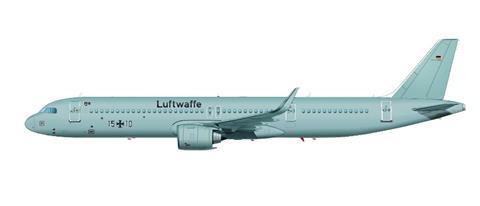 Airbus does not list any orders for the A321neo under government operators, although 88 orders for the variant are allocated to unidentified customers.
Lufthansa Technik says the work follows an agreement with the armed forces' equipment, IT and in-service support division.
Eighteen different interior configurations can be arranged for the aircraft, including transport for 136-163 occupants.
Other options include medical evacuation with intensive-care capabilities for up to six patients, or facilities for 12 moderately-injured people.
Lufthansa Technik will provide its own patient transport units, as well as reserves, for the aircraft in this evacuation role.
Both jets will be operated by the German defence ministry's special air mission wing. Lufthansa Technik says the division will make "maximum use of synergy" with A320-family aircraft already deployed.
Lufthansa Technik is already involved in modification of three Airbus A350-900s for the German government.