Lockheed Martin was awarded a five-year contract worth $7 billion for maintenance of the F-22 Raptor stealth fighter.
The contract is an option exercised by the US Air Force (USAF) from its ongoing sustainment deal with Lockheed Martin, the Department of Defense says in an online notice on 20 December. This additional five-year contract will extend the service's contract work with Lockheed Martin through 31 December 2032.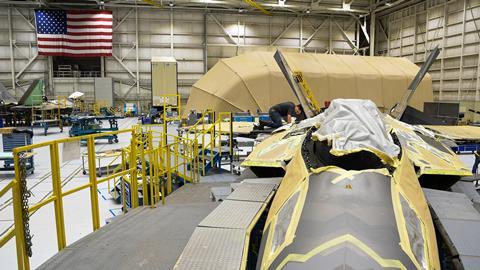 Work will be performed at a variety of operational bases, support hubs and overseas locations – wherever the F-22 is deployed, according to the Pentagon.
Lockheed Martin produced 195 examples of the F-22, with the last stealth fighter rolling off its production line in 2012. The USAF plans to operate the aircraft until at least 2045.
The F-22 fleet is maintained under a performance-based logistics contract, says Lockheed Martin. Typically, under performance-based logistics contracts suppliers are awarded a flat fee to maintain a certain level of performance, such as mission readiness, for an aircraft, rather than just supply parts or repair services.
"About 50% of the maintenance performed on the F-22 is related to repairing the low observable stealth coatings that are damaged when the aircraft is opened up for routine maintenance," says Lockheed Martin on its website.
The company says it is working on several initiatives to reduce the amount of low observable coating repair work needed on the F-22. Cutting labour from stealth coating repairs is especially important as the USAF tries to execute its "agile" basing strategy, a form of expeditionary warfare that envisions its fighters quickly hopping around to different air bases so as to make it difficult for an enemy to strike the aircraft on the ground.
Separately, Lockheed Martin is upgrading the F-22 via the 3.2B software modernisation package. That program upgrade includes the integration of two new air intercept missiles, the AIM-9X and AIM-120D.