Peru has placed a contract worth $3.75 million with Fort Lauderdale, Florida-based D&S Aviation for the supply of a second-hand Boeing 737-300 for the country's air force.
Delivery of the CFM International CFM56-3C1-powered narrowbody will take place within three months, reports Spanish-language news site Defensa.com.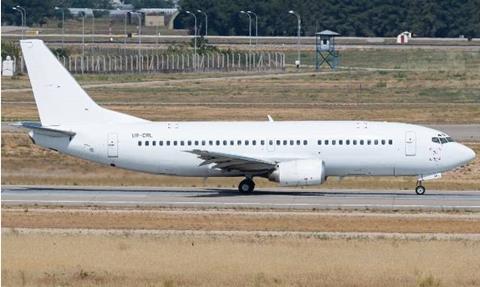 To be operated by the Peruvian air force's 8th Air Group, the twinjet will be located at the service's Mayor General Armando Revoredo Iglesias base, adjacent to Lima's main international airport.
Peru intends to use the 737-300 for the transport of passengers and equipment as part of its response to the coronavirus pandemic.
Defensa.com identifies the airframe as MSN24717, a 1990-built example initially delivered to United Airlines. Most recently it has been operated by Ukrainian carrier Dream Wind Airlines where it was registered as UR-CRL, according to Cirium fleets data.
This will be the Peruvian air force's third 737, joining a -200 and -500 already in service. Although the latter is usually employed as a presidential aircraft, the jet is currently being used for medical flights serving the city of Iquitos in the north of the country.
Additional transports operated by the 8th Air Group include a trio of Antonov An-32Bs, four Leonardo C-27J Spartans, a pair of Lockheed L-100-20s, and a single Bombardier Learjet 45XR.