At any given time, there are about half a dozen foreign countries interested in buying the Sukhoi Su-57E stealth fighter, according to Russian export agency Rosoboronexport. The names of those countries so far have remained secret, however.
Such is the case again at the MAKS 2021 air show outside of Moscow.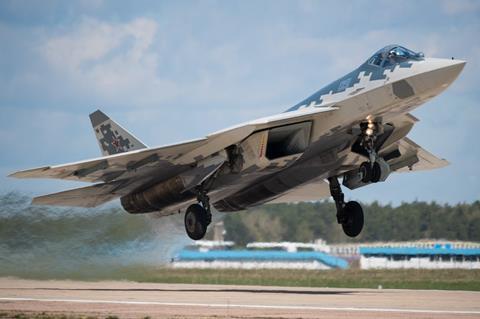 Five countries are interested in procuring Russia's first stealth fighter, said Alexander Mikheev, director general of Rosoboronexport on 20 July, without naming potential parties.
"The interest from foreign customers has risen substantially," he says. "The aircraft does have a high export potential despite the unfair competition in the form of sanctions."
Moscow blames the USA's Countering America's Adversaries Through Economic Sanctions Act (CAATSA) for frustrating its foreign aircraft sales, claiming that the law has also stymied a proposed deal to export 11 Su-35s to Indonesia. CAATSA was enacted in retaliation for Russia's invasion and occupation of Ukraine's eastern regions and Crimea, as well as its military deployment in Syria and interference in the 2016 US presidential election.
The Russian air force has ordered 76 examples of the domestic variant of the stealth fighter. The first Su-57 from serial production was delivered in January.
The first export customer of the Su-57E remains elusive, however. Potential customers for the fighter that have been floated by outside observers include Algeria, China, Turkey and Vietnam. Yet, Rosoboronexport has been silent about discussions with foreign buyers, declining to name potential customers.
Even with the cancellation of a joint production project for the aircraft with India in 2018, Russia has not ruled out similar agreements with other interested parties, noting its experience with setting up production offset programmes for the Su-30.
The export agency is bullish about striking potential deals at Russia's biggest air show, notwithstanding travel restrictions and rising levels of Covid-19 infections in Moscow that have kept some visitors away.
"Despite the well-known difficulties here at the show, [Russian] industry is demonstrating some of its latest products in the static and the flight demo programme," Mikheev says. "As for Rosoboronexport, we are all set to promote Russian products worldwide and engage in co-operational projects with foreign customers, using MAKS 2021 as a meeting point."
Vladimir Karnozov contributed to this article