US Air Force (USAF) chief of staff General Charles Brown declared in a recently released strategy paper that the service must "Accelerate Change or Lose".
The Accelerate Change or Lose approach to buying aircraft, weapons and subsystems is being driven by increasingly sophisticated weapons being developed and fielded by China and Russia, Brown said on 31 August.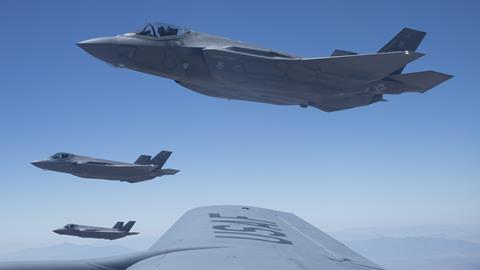 "Competitors, especially China, have made and continue aggressive efforts to negate long-enduring US warfighting advantages and challenge the United States' interests and geopolitical position," writes Brown. "While the nation was focused on countering violent extremist organisations, our competitors focused on defeating us. They have studied, resourced, and introduced systems specifically designed to defeat the US Air Force capabilities that have underpinned the American way of war for a generation."
"The American way of war" typically has started with achieving aerial supremacy, which gives cover for land and naval forces to fight. It also is governed by a strategy that aims to keep fighting away from the USA.
However, China and Russia have invested heavily in anti-aircraft missile batteries to shoot down USAF aircraft, as well as long-range ballistic and cruise missiles that can destroy aircraft on the tarmac and hit the mainland USA. Both countries are also developing nuclear-tipped hypersonic missiles.
"Future warfare will not remain far from our shores; we must be prepared to address our competitors' attempts to hold the US homeland at risk with unconventional, conventional, and even nuclear force," writes Brown. "Tomorrow's airmen are more likely to fight in highly contested environments, and must be prepared to fight through combat attrition rates and risks to the nation that are more akin to the World War II era than the uncontested environment to which we have since become accustomed."
PACE OF INNOVATION
Brown adds that adversaries are developing weapons faster than the USA can come up with counter weapons, tactics and strategies.
"While we and industry previously enjoyed the benefit of time, when US Air Force dominance seemed unassailable, we are now seeing competitors outpace our current decision structures and fielding timelines," Brown writes. "Absent change, our presumed advantage will continue to erode, and the US Air Force will not be adequately prepared for the warfighting challenges in contested environments."
To regain its advantages, the USAF needs to recognise the future of technology will not likely come from Department of Defense-funded or -originated projects, he says. The USAF has placed an emphasis in recent years on needing to adapt its acquisition process to take advantage of commercial technologies as well as to welcome new ideas from innovative, but non-traditional defence companies, such as venture-capital backed start-ups.
In particular, Brown says that the Pentagon's effort to develop a battlefield communications network – called Joint All-Domain Command and Control – will be vital to winning. The Pentagon aims to use the network to coordinate faster-moving operations between the USAF, US Navy, US Marine Corps and US Army. In theory, the pace of operations would allow US forces to overwhelm or outmanoeuvre Chinese or Russian forces.
The Joint All-Domain Command and Control system might one day also allow closer coordination with foreign militaries. "We must also consider how to achieve improved interoperability and data sharing with our closest allies and partners so that we can fly, fight and win together," says Brown.
'RUTHLESS'
Brown notes that rising threats to the USA and likely declining or flat defence budgets will force tough choices that will cause the USAF to throw away old weapons in favour of more useful new ones.
"Likely future budget pressures will require the most difficult force structure decisions in generations. We cannot shy away from these decisions," he says. "In order to inform this ruthless prioritisation, we must also consider our decisions in the context of the key competitions over time. As a service, decisions on our missions and capabilities must be informed by how they fare against our understanding of competitors' theories of victory, ways of war, and force development strategies."
Internal deadlines and traditional equipment buying practices can no longer be the measuring stick of Department of Defense programmes, says Brown.
"Cost, schedule, and performance metrics alone are no longer sufficient metrics of acquisition success," he says. "We must be able to account for the interactive nature of competition and continuously assess ourselves relative to our adversaries' adaptations."
In recent years, the USAF has experimented with new ways of granting contracts, including its Other Transaction Authority, which allows for awarding funding to companies faster and with fewer regulations. The service has argued that creative uses of contracting authority have given it the flexibility to innovate, experiment and prototype faster, though some have criticised the approach as too vague to be accountable.
Such a rapid modernisation strategy could face opposition because it would put lucrative aircraft, weapons and subsystems on the chopping block – hurting traditional defence contractors such as Lockheed Martin, Boeing, Raytheon and Northrop Grumman. Those companies fund immensely powerful Washington lobbyists and employ tens of thousands of workers, making modernisation decisions politically difficult.
Seemingly anticipating this, Brown appears to be setting expectations for Beltway companies.
"We must make a compelling case to external stakeholders, backed by defensible analysis and evidence, to divest or take risk in legacy missions and capabilities," he writes. "The US Air Force must work differently with other Department of Defense stakeholders, Congress, and traditional and emerging industry partners to streamline processes and incentivise intelligent risk-taking in support of the warfighter and the nation."
Ultimately, Brown says these reforms are do-or-die necessities.
"If the US Air Force fails to adapt fast enough, wargaming suggests mission failure and unacceptable risks to the Joint Force," he says. "The rules-based international order so many have fought to defend may disintegrate and our national interests will be significantly challenged. Unless we accelerate the changes we need, the US Air Force will be ill-prepared to compete, deter and win."
US Air Force special report: Preparing for the high-end fight
1

2

3

4

5

Currently reading

'Ruthless' aircraft-buying decisions needed to avoid defeat: USAF