The US Navy has announced the delivery of an Airbus Defence & Space CN-235 to the Royal Malaysian Air Force (RMAF) via a programme to build partnerships with allies.
The RMAF CN-235, originally produced by Indonesian Aerospace (originally known as PTDI), has been configured to operate in the maritime surveillance role, says the US Naval Air Systems Command (NAVAIR). Indonesian Aerospace conducted the modification work in Bandung.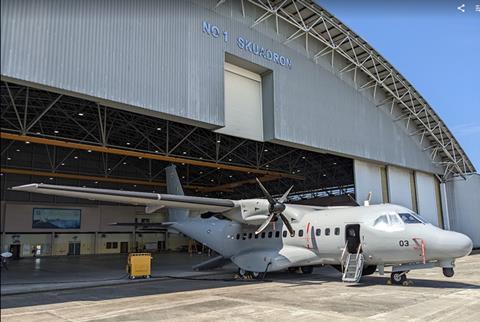 The delivery is the first of three, with the following two modified CN-235s to be delivered to the RMAF later this year. The three aircraft were originally flown to Bandung in September 2020 for completion and testing work.
The delivery comes three-and-a-half years after the USA signed a letter of offer and acceptance related to the work, which aims to increase the capability of Malaysian forces as well as their interoperability with US forces.
The aircraft have been equipped with an intelligence, surveillance and reconnaissance (ISR) suite that includes a maritime surveillance radar, electro-optical/infrared turret, line-of-sight datalink, and a roll-on/roll-off mission system operator station. The programme also includes mobile and fixed ground stations.
"Building Partner Capacity programmes represent the highest level of return on engagement to the United States," says Ron Weinberger, director, Security Cooperation Office at NAVAIR.
"The Malaysian CN-235 programme will be a significant force multiplier to an indigenous Malaysian ISR capability and will directly support joint Malaysian and US efforts to ensure global security in the Indo-Pacific Command area of responsibility."