The US Air Force (USAF) has secretly designed, built and flown a full-scale demonstrator aircraft that is part of its Next Generation Air Dominance (NGAD) programme.
"NGAD has come so far that the full-scale flight demonstrator has already flown in the physical world. It's broken a lot of records in the doing," Will Roper, assistant secretary of the USAF for acquisition, technology and logistics, said during a video presentation at the Air Force Association's virtual Air, Space & Cyber Conference on 15 September. "A lot of the mission systems that we require for Next Generation Air Dominance have been flown on test articles. So, they are coming along very well."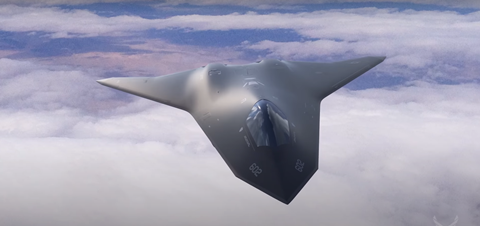 Roper declines to say anything else about the NGAD demonstrator. It is not clear if the aircraft was built by the USAF or a contracted aerospace manufacturer.
NGAD is the service's programme to develop a next-generation fighter.
Digital engineering is credited with allowing the USAF to move quickly from designing, to building and flying the NGAD demonstrator. "Digital engineering seems to accelerate everything," Roper says.
Many development tasks that previously had to be handled and figured out in the physical world, such as systems integration, can now almost be entirely simulated in the virtual world, allowing for the aircraft prototype to be rapidly assembled.
"NGAD right now is designing, assembling, testing in the digital world, exploring things that would have cost time and money to wait for physical world results," says Roper.
The NGAD, Boeing's T-7A advanced jet trainer and Northrop Grumman's Ground Based Strategic Deterrent ballistic missile system are all examples of USAF programmes extensively using digital engineering, says Roper.
Secretary of the USAF Barbara Barrett announced on 14 September that any programme using digital engineering would receive the prefix "e" during the development phase, for example, the eT-7A.
Roper says he decided to disclose the flight of the NGAD aircraft to dispel doubts about digital engineering's ability to speed up manufacturing.
"The whole idea of what you can digitally engineer is in question," he says. "I've had many people in the Pentagon and elsewhere say 'I see how you could apply that approach to a trainer, like T-7, but you could not build a cutting-edge warfighting system that way'."
Roper says he also wants greater investment from private industry in digital engineering.
"We're going to drill on it until this is the way we do business and every new programme will begin by building an e-system," he says. "It's truly magical."