The US Navy's (USN) newest aircraft carrier, the USS Gerald R Ford, has been cleared as operationally safe for launching and recovering all naval aircraft types using its Electromagnetic Aircraft Launch System (EMALS) and Advanced Arresting Gear (AAG).
The aircraft carrier, known also as CVN 78, completed at-sea compatibility testing with EMALS and AAG, demonstrating launch and recovery with the Boeing F/A-18E/F Super Hornet, E-2D Advanced Hawkeye, Northrop Grumman C-2A Greyhound, Boeing EA-18G Growler, and McDonnell Douglas T-45 Goshawk on 31 January, General Atomics says on 11 February.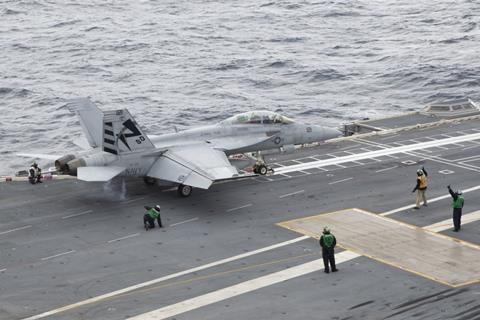 "EMALS and AAG can launch and recover the current air wing and any future aircraft, to provide greater flexibility than the legacy systems aboard Nimitz-class carriers," says Scott Forney, president of General Atomics Electromagnetic Systems. "The Navy is expecting flight deck certification to take place in the coming months and will conduct a steady stream of cats and traps this year – we're talking in the thousands – to move the ship closer to full mission capability and capacity."
EMALS is a launching catapult that uses a linear induction motor, rather than a steam piston, to accelerate aircraft to takeoff speeds. Linear induction motors use electromagnetism to rapidly move a carriage pulling an aircraft off the edge of the carrier and into flight.
The AAG uses a wire connected to an electromagnetic system to slow and stop landing aircraft. Older carriers used a hydraulic system to catch landing aircraft.
The USS Gerald R Ford is first of the USN's Ford-class of aircraft carriers and the first to use EMALS and AAG, among several other new technologies. The ship is the largest aircraft carrier in the world, displacing about 100,000t.
EMALS and AAG systems are also to be installed on two other future Ford-class aircraft carriers, the USS John F Kennedy and USS Enterprise.
General Atomics said both systems would be easier, cheaper and more precise than their predecessors. However, reliability has been less than desired, causing costly delays into service, according to the Pentagon's Office of the Director of Operational Test and Evaluation 2019 report.
"Overall, the poor reliability demonstrated by AAG and EMALS and the uncertain reliability of [Dual Band Radar] and [Advanced Weapons Elevators] could further delay CVN 78 [Initial Operational Test and Evaluation]," says the report, which was published 20 December 2019.
Nonetheless, General Atomics is billing the recent clearance of EMALS and AAG as a success. The company will be working with the USN in the coming months on continued tests of the systems as the carrier moves towards Initial Operational Test and Evaluation.