Alaska Air Group has ordered nine Embraer 175s, while partner SkyWest Airlines has ordered another eight E175s to operate for Alaska.
In addition, it plans to take 13 more 737 Max in the coming years by exercising order options.
The plan will bring a combined 30 new aircraft into Alaska's network, the airline company says on 12 May.
"Thirteen Boeing 737-9 Max options will be exercised, with deliveries in 2023 and 2024," the airline writes in a filing with the Securities and Exchange Commission on 12 May. Alaska does not respond to a request to clarify details about its plan for converting Max options to orders.
Alaska's nine E175 orders are conversions of options. The company's regional subsidiary Horizon Air will operate those jets.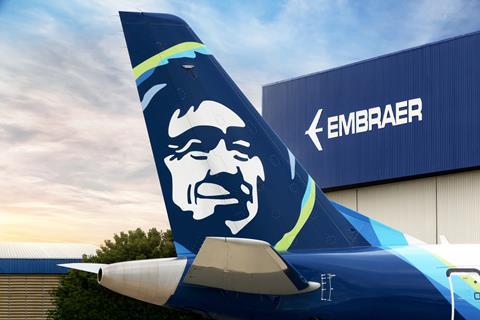 "We have navigated through the pandemic and we're on a solid path to recovery," says Nat Pieper, Alaska Airlines senior vice-president of fleet, finance and alliances. "The E175 remains a key part of our strategy. [It] is a terrific plane to help us add new routes and frequencies, and to complement our mainline aircraft to meet fluctuating demand with the right capacity."
Horizon Air and SkyWest now operate 62 E175s for Alaska Airlines, which joined the Oneworld global alliance at the end of March. The 17 incoming E175s will be outfitted with 76-seats in three classes.
SkyWest's eight E175s will enter service for Alaska in 2022; Horizon will receive five of the nine E175s in 2022, and the remaining four in 2023, Alaska says.
"With these aircraft, we will have over 220 E175s, operating more than any other carrier in the world," SkyWest chief executive Chip Childs says. SkyWest also operates regional jets for American Airlines, Delta Air Lines and United Airlines.
When all aircraft are delivered, Horizon will have 42 E175s flying for Alaska, Embraer says.
In recent months, Alaska negotiated deals with Boeing, leaving it earlier this year with firm orders for 68 737 Max and options for another 52.
With the new order, the airline now has 81 firm orders, and 39 options on the books.
The Brazilian airframer's market share in North America's 70-90-seat aircraft segment stands at 85%, Embraer says. It notes that 588 E175s are flying for US and Canadian carriers.
Updates on 12 May to clarify that Alaska's Max orders now stand at 81 and options at 39.