The parent company of All Nippon Airways (ANA) has switched its order for two Airbus A321LRs — its sole commitments to the long-range variant — choosing instead to take the standard A321neo.
ANA Holdings states in a 1 February stock exchange filing that it would also be swapping one A320neo order to the A321neo, taking the total additional A321neos on order to three examples.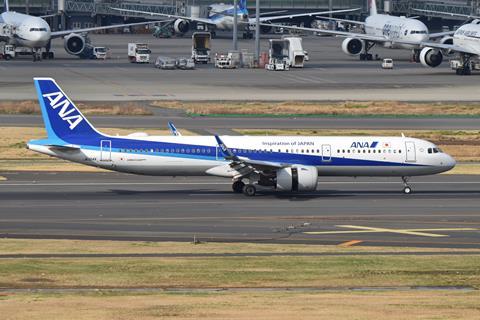 Delivery for the three A321neos, valued at a catalogue price of around Y41 billion ($359 million), will run from 2025 to 2026.
There is no change in the delivery timeline for the remaining 15 A320neos on order, which will run between 2022 and 2025. The orderbook is valued at around Y177 billion, states ANA Holdings.
The company adds that the decision to switch its orders was made to "enable [its] medium-to-long term business plan to be executed in a stable manner".
ANA low-cost unit Peach Aviation has two A321LRs in operation, while mainline ANA has 22 A321neos in operation, according to Cirium fleets data.
The order swap marks the end of ANA Holdings' short-lived affair with the A321LR, itself the product an order swap. In late-January 2020, the airline group switched orders for two A320neos to the A321LR.
The disclosure also comes as the group returned to the black for the first time in two years, posting an operating profit of Y100 million for the three months ended 31 December 2021.