Austrian Airlines carried out its last De Havilland Dash 8-400 turboprop flight on 31 May, completing the retirement of the type from its fleet.
The Lufthansa Group carrier, even before the Covid crisis in January 2019, had accelerated plans to phase out Dash 8s from its fleet in 2021. The airline, which at that stage was operating 18 of the turboprops, replaced the type with a mix of Embraer jets and Airbus narrowbodies.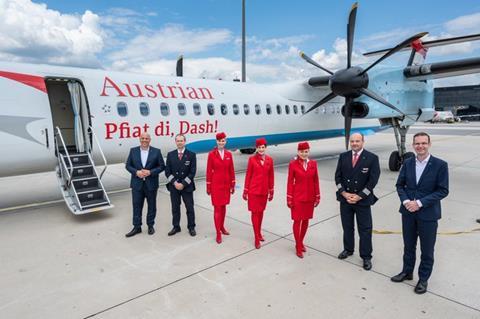 Austrian's last Dash 8 flight operated between Vienna and Innsbruck.
The airline's chief commercial officer Michael Trestl says: "Austrian Airlines is well-prepared for the phasing out of the Dash. With the comfortable, efficient Embraer and Airbus aircraft, we will continue to offer our passengers a good feeder offer with Vienna as our hub."
Withdrawal of the type brings to an end 40 years of operations with Dash turboprops, dating back to when Austrian regional carrier Tyrolean in 1980 became the first European operator of the Dash 8 predecessor, the de Havilland Dash 7.
By the time Tyrolean was acquired by Austrian in 1998, it operated 44 Dash 8s, a mix -100, -300 and -400 models.