Lufthansa is set to take delivery of its first Boeing 787-9 this summer as it prepares to launch the Dreamliner on flights to Toronto.
The German carrier today released images of its first 787, registration D-ABPA, which it says will be delivered following certification by the US Federal Aviation Administration this summer. The manufacturer has not delivered any 787s since May 2021 as it works to address manufacturing quality issues, but submitted a new certification plan to the regulator in April.
Lufthansa says that following several weeks of cabin refurbishments at its maintenance facilities in Frankfurt, the aircraft will be deployed initially on domestic German routes for training purposes. The first intercontinental scheduled destination will be Toronto.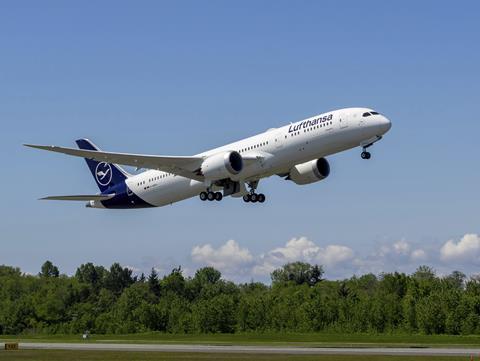 Lufthansa Group has 32 Dreamliners on order, with deliveries running from this year to 2027. The airline earlier in May ordered seven more 787-9s to help offset the delay in delivery of the first 777-9s from 2023 to 2025.