UK-based charter operator Titan Airways is to introduce a pair of long-range Airbus A321LRs later this year.
The aircraft, fitted with CFM International Leap-1A engines, will be delivered to the carrier, which is stationed at London Stansted, in late summer 2020 and start operations in the autumn.
They are destined to replace Boeing 757-200s used by the carrier. It uses two Rolls-Royce RB211-powered 757s, both 20 years of age.
The A321LRs, says Titan, represent the "future of narrowbodied long-haul flying" for the airline.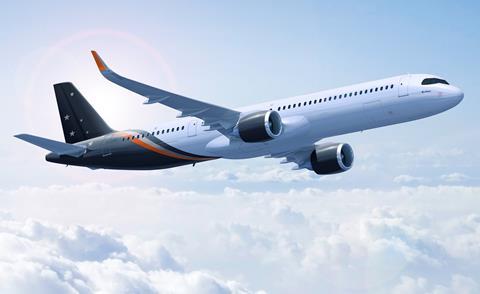 It states that the aircraft will have an interior fitted by Airbus Corporate Jets.
Titan has chosen various layouts for the cabin configuration, including a single-class 195-seat interior as well as a two-class arrangement with 16 premium and 168 economy seats.
It also intends to offer an all-business configuration with 52 lie-flat seats for services on behalf of luxury tour operator TCS World Travel.
Titan's fleet modernization will also include the arrival, in spring, of an Airbus A330, part of the transition to an all-Airbus operation.