Wizz Air is set to receive only half the Airbus A321neos it had planned to introduce in its 2020-21 financial year, the budget carrier has revealed in its latest fleet plan.
The airline had been due to take 19 A321neos over the period, according to the figures given at its first-quarter briefing in July.
But its updated plan, released with its half-year results, shows only nine A321neos will arrive in fiscal 2020-21, four of them deferred from scheduled delivery in 2019-20.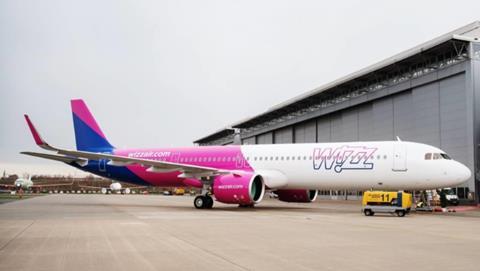 As a result Wizz will have 17, rather than 31, A321neos in 2020-21 but will retain three more A320s than it had intended, a total of 70, which will give it an overall fleet of 134 aircraft, instead of the previous 145.
Airbus has been struggling with industrial ramp-up problems with the A321neo.
Wizz chief financial officer Iain Wetherall, speaking during a half-year briefing, said the airline was "having challenges on getting all the A321neos we wanted".
Wizz will still be taking its first six A320neos in 2020-21. But Wetherall says the carrier would "prefer" to have the larger A321neos available, describing it as a "superior aircraft".
But he adds that the airline has "more than enough levers to pull to deliver the seat growth".
Wizz chief executive Jozsef Varadi says the airline is "benefiting" from financial penalty clauses as a result of the A321neo delays.
"It's not going to change the [profit and loss] of the airline," he says. "We're getting some money out of it but I'd rather get the aircraft.
"We don't need money from Airbus for liquidity purposes. I'd make more money by flying the aircraft than just getting compensated for the delay."
Wizz's fleet plan indicates that the airline will be back on track regarding its A321neo fleet in 2021-22, with 62 of the type in service, meaning it will need to receive 45 in that year rather than the expected 31.