For Rolls-Royce, Pratt & Whitney, GE Aviation and CFM International, a long downturn means de-tuning plans to ramp up the power
Apart from the aircraft OEMs themselves, there is perhaps no group of companies whose fortunes are more closely tied to the health of the civil aviation and travel industries than the big jet engine manufacturers. Consider the example of the UK's aero engine standard-bearer; Rolls-Royce enjoyed a solid 2019 that saw its civil aerospace unit record revenue growth of 10%, to £8.1 billion ($9.9 billion), while returning to operating profit – ending the year £44 million in the black, and rebounding from 2018's £162 million loss. Last year also saw the widebody engine specialist deliver a record 510 engines and claim nearly two-thirds of engine orders to give it roughly 55% of the widebody orderbook.
And, the company reported on 28 February, the year even ended with air travel returning to what the company called its "long-run average of 4-5% growth per annum". For good measure, R-R also saw 2019 close with an upturn in the financially critical civil aero engine aftermarket.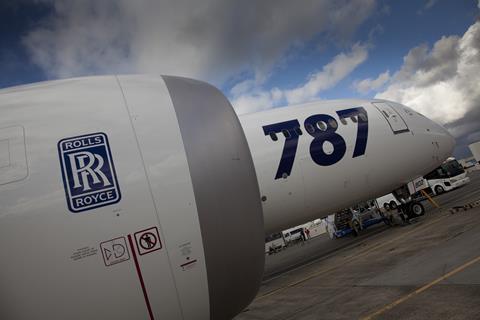 But all that, of course, is ancient history. As May 2020 drew to a close, the global coronavirus pandemic had already ravaged the civil aviation industry on which R-R, its immediate rivals and key partners, Airbus and Boeing, rely. Chief executive Warren East spelled out the situation in grim terms on 20 May, when he delivered the outline of a broad restructuring plan that will see at least 9,000 jobs cut from a global group workforce of 52,000.
Those cuts are deeper than expected – some analysts had foreseen about 8,000 positions being cut from the group, which has in any case been trimming support and executive numbers since 2018. Most of those 9,000 jobs will be cut from the group's civil aerospace business, which accounts for about half the headcount and is heavily represented in its UK home territory.
A similar tale of crisis and cutback is told at US rival GE Aviation. The company, which like R-R powers widebody airliners and also, through its CFM International joint venture with France's Safran, supports narrowbody fleets, has since April moved to slash one-quarter of its 52,000-strong global workforce, meaning some 13,000 lost jobs.
CFM itself on 15 May said the "steep contraction of the commercial aviation market and the subsequent ripple through the supply chain is unlike anything we have ever experienced". It added that Safran and GE will "take steps to adapt to the current reality". Pratt & Whitney, the other big narrowbody player, has put some staff on furlough and says it is looking to make permanent cuts through voluntary measures, which may or may not be sufficient to avert layoffs.
As East put it, the impact of coronavirus on the aviation industry is "unprecedented", and R-R has already taken steps to bolster its "financial resilience" and cut 2020 cash outlay. But, he continued, the coming recession will be a long one: "It is…increasingly clear that activity in the commercial aerospace market will take several years to return to the levels seen just a few months ago."
While it remains to be seen how deeply R-R's job cuts will hit its civil aerospace unit, it is worth noting that the unit employed about 19,500 people in 2010, when aerospace began a long run of growth years following the 2008-2009 financial crisis, so it is not hard to imagine that R-R's civil aerospace business will see that expansion entirely undone.
ON COURSE
However, in product development terms R-R is maintaining momentum. The company confirms to FlightGlobal that there has been no change in its progress and expectations as outlined in a 6 April trading update, at least in relation to technical issues that have dogged the Trent 1000 engine. As East explained in April: "Our actions to reduce the number of aircraft on the ground (AOG) related to the technical issues on the Trent 1000 engines have continued to deliver positive results, with mid-20s AOG at the end of March, down from mid-30s reported at the end of February, and sufficient overhauled engines now delivered to achieve below 20 when all are fitted to aircraft.
"We expect to reduce this to single digits by the end of the second quarter and to date our MRO facilities are still operating, despite Covid-19 disruptions." Design work remains on schedule, he added, "to resolve the last remaining technical issue, a new high-pressure turbine blade for the Trent 1000 TEN engine". That component should be "ready for incorporation into the fleet by the end of H1 2021".
At the same time, East summed up the new-build manufacturing situation thus: "Output of new widebody engines remained broadly stable in the first quarter [but] our airframe and airline customers are facing unprecedented business challenges and we are in close communication with our customers and suppliers as we prepare for an anticipated reduction in engine delivery and MRO…volumes."
The scale of the restructuring announced on 20 May should therefore come as no surprise.
POWERING ON
GE is gearing up for the planned 2021 service entry of its massive GE9X turbofan being readied for Boeing's new 777X twinjet. The first 777-9, designated WH001, made the type's maiden flight on 25 January, kicking off the flight-test campaign. Boeing expects to begin 777X deliveries in 2021.
GE has produced 10 GE9X engines, including two spare ones, for Boeing's four-aircraft-strong 777-9 flight-test fleet. It has shipped nine of those engines and will ship the 10th powerplant, a spare, to Boeing in the coming weeks, GE says. The powerplants, which produce 105,000lb-thrust (467kN), have been hung on the wings of three of the four flight-test 777-9s, of which two aircraft have flown.
GE says it has "solved and fixed" an issue with the GE9X's stator vanes which last year delayed the start of flight testing. The stator vanes, at the front of the GE9X's high-pressure compressor, were linked to unexpected exhaust gas temperatures and premature component degradation.
The engine maker is now in "the final phase of validating that lessons learned have been addressed". Prior to certification, GE must complete a 1,000-cycle "initial maintenance inspection". It also intends to perform a 3,000-cycle extended twin-engine operations test later this year. GE expects to deliver its first production GE9X engines to Boeing this year. It declines to specify planned GE9X production rates, saying it will align production with Boeing based on demand.
Hanging over the programme, though, is the fact that one Boeing response to the coronavirus downturn has been to slash planned 777 production in 2021 from five aircraft per month to just three.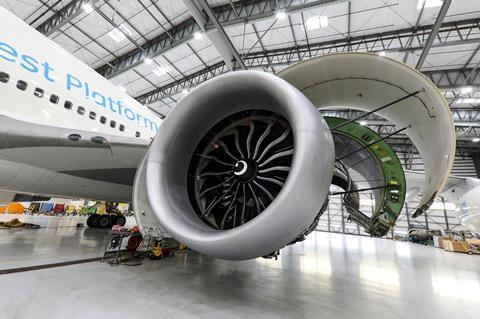 GEARING UP
Pratt & Whitney is pulling some opportunity from the pandemic crisis by accelerating rectification work on in-service PW1000G geared turbofans (GTFs). Of nearly 750 GTF-powered jets delivered so far to 49 operators, some 400 are not flying according to Cirium fleets data – and P&W says it has "established quick-turn capacity at 10 locations to accelerate upgrades". GTF-powered aircraft currently grounded include more than 300 Airbus A320neos.
GTFs have had several issues. The PW1100G, for instance, suffered problems with accessory gearboxes, low-pressure turbine third-stage blades and "knife-edge" seals in high-pressure compressors. Several in-flight shutdowns prompted a brief regulatory grounding and led P&W to temporarily halt deliveries in 2018.
P&W has addressed and "closed" the seal problem and developed fixes for other "engine durability" issues, including those related to the third-stage blades and accessory gearboxes. New production engines have had those updates since mid-2019, the company is now bringing those fixes to the in-service fleet and, it claims, "upgrades are performing flawlessly in service with zero events and 99.99% dispatch reliability".
P&W sees itself as "at the early stages of this engine's capability", with gains to come in efficiency and thrust. Derivations may feature higher bypass ratios, larger fans and more advanced materials.
The company shipped 211 large commercial engines in the first quarter, up from 189 in the same period last year. But it does not comment on how the ongoing economic downturn might affect production. Notably, Airbus plans to trim A320neo-family aircraft production by one-third, from 60 aircraft per month to 40.
LEAP BACKWARD
That A320neo slowdown is obviously hurting CFM, where co-parent Safran has warned that tumbling shipments will translate into far fewer engine deliveries in 2020 than in 2019 – CFM will make about 1,000 Leap engines, down some 40% on 2019. During the first quarter, CFM delivered 326 Leap and CFM56 engines, down 44% year on year.
But for CFM, output dynamics are complicated by the fact that the big-selling CFM56 is subject to a long phase-out, and is being replaced by the Leap variants that power the A320neo and Boeing 737 Max families, as well as Comac C919s. And while coronavirus has certainly hurt the Leap programme, much of the its 36% year-on-year first-quarter drop to 272 units will be owing to Boeing's decision to stop production of the 737 Max, which was grounded worldwide in March 2019 following two fatal accidents. The type remains out of service, though Boeing has said it will resume production this year – but 2021 output plans are for 31 Max aircraft per month, down from the 52 rate achieved before its grounding.
Additional reporting by David Kaminski-Morrow