Gulf Helicopters is to be the launch customer of Leonardo Helicopter's AW189K super-medium twin.
The Italian helicopter manufacturer says the first helicopter is set for delivery to the Qatar-based operator in the middle of 2021. Leonardo declines to say how many examples Gulf Helicopters ordered.
Gulf Helicopters also operates the original AW189.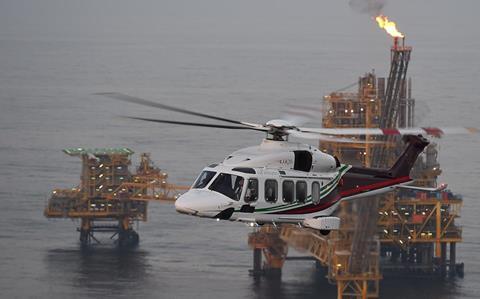 The AW189K will be used as a transport aircraft for oil and gas workers, says Paul de Jong, vice president of marketing for Leonardo.
The "K" variant of the AW189 is powered by two Safran Helicopter Engines Aneto-1K turboshafts, each rated at 2,500shp (1,860kW). The Aneto-1K was certificated on the AW189K by EASA in December 2019.
"Certification with engine and aircraft together will be mid next year," says de Jong.
The Aneto-1K is intended to give the helicopter increased performance capabilities in hot and high conditions. It provides 25% more power than the helicopter's current GE CT7-2E1, says Leonardo.
Leonardo is pitching the more powerful AW189K as being a good fit for oil and gas service providers, as well as militaries, in the Middle East.
"You can also imagine operations for firefighting where you need to lift a lot, where you need the power to move agilely in various environments," says de Jong.
The growing frequency and size of wildfires in places such as Australia and California is increasing interest in the AW189K, he says. De Jong declines to project sales in the coming years for the helicopter, however.