Airbus Helicopters has formed a German industrial team to address a forthcoming requirement for up to 55 rotorcraft from the country's military.
To be acquired under the Light Utility Helicopter – Streitkrafte (LUH SK) programme, the assets will be required for a variety of missions, including light attack and training, replacing the German army's Bell 206Ds and older EC135s.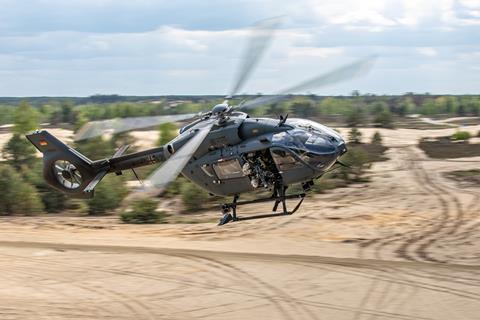 Airbus Helicopters is proposing the five-bladed light-twin H145M – which it builds in Donauworth in southern Germany – for the requirement, a number of which will be equipped with its HForce modular weapons system.
Included in the LUH SK – Team H145M are Ecms Aviation Systems, Hensoldt Sensors and Hensoldt Avionics, Liebherr Aerospace, Rohde & Schwarz, Safran Helicopter Engines and ZF Luftfahrttechnik. However, other parties are still able to join.
"We have a strong product with very high availability, guaranteed short delivery times and have organised support for the weapons system with a large number of German companies," says Wolfgang Schoder, managing director of Airbus Helicopters in Germany.
"With the formation of the team, we are offering the Bundeswehr a complete configuration that can be procured quickly and efficiently."
Germany has already acquired two variants of the H145M LUH: 15 for the air force in support of special forces missions (LUH SOF) and five examples of a search and rescue model for the army (LUH SAR).
Recent improvements include the integration of the Rafael Spike ER2 air-to-surface missile and advances to manned-unmanned teaming capability; a further test campaign for the latter technology is planned this summer.
The H145M is already in service in Hungary (20), Luxembourg (2), Serbia (9), and Thailand (5).