Bell has unveiled three "High-Speed Vertical Take-Off and Landing" aircraft design concepts.
The renderings, as well as new performance details, come several months after FlightGlobal reported that the US Air Force Research Laboratory (AFRL) contracted Bell to research a similar idea and follows a flurry of related patent filings from the manufacturer.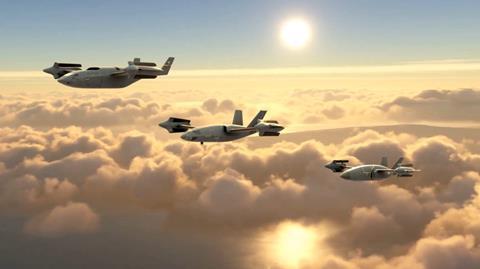 The company claims its High-Speed Vertical Take-Off and Landing aircraft could blend "the hover capability of a helicopter with the speed, range and survivability features of a fighter aircraft". Such a system would be capable of "low-downwash hover" and "jet-like cruise speeds over 400kt [740km/h]", the manufacturer says.
Bell's conceptual renderings appear to use foldable proprotor technology that the company has disclosed in patent applications. The firm has explored aircraft that can take off vertically using tiltrotors, but then fly forward in cruise mode using wing-borne lift and thrust from jet engines, according to patent applications. Rotor blades would fold back to reduce drag during forward jet-powered flight.
One way such an aircraft might switch between high-speed cruise and VTOL mode is by relying on a "convertible engine", a jet engine that switches between turboshaft and turbofan modes, according to patent filings. The Lockheed Martin F-35B uses a similar system, called the Rolls-Royce LiftSystem, to facilitate short take offs and vertical landings.
In turboshaft mode, one or multiple engines would mechanically power rotor blades via a central gearbox, says Bell's patent filings. Alternatively, the convertible engine could turn an electrical generator that would send power to electric motors which would then move the rotor blades, say a Bell patent application.
Because a convertible engine would need to be sized to power the more energy-intensive VTOL flight phase it would have extra power available during cruise, which could be used to power accessories, such as directed-energy weapons or batteries, says a patent application. "Electrical [battery] storage provides additional capability for increased power during VTOL or other rotary operations by supplying additional electric power for short durations," the filing adds.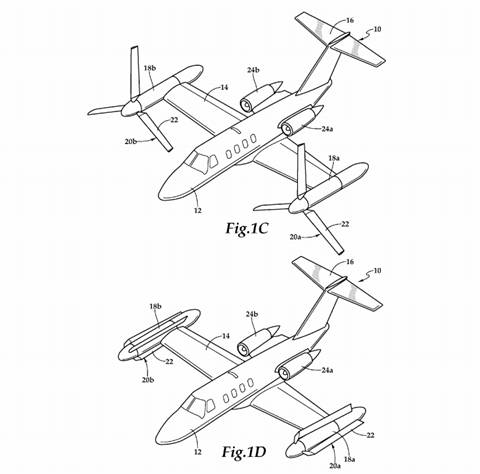 "With the convergence of tiltrotor aircraft capabilities, digital flight control advancements and emerging propulsion technologies, Bell is primed to evolve [High-Speed Vertical Take-Off and Landing] technology for modern military missions to serve the next generation of warfighters," says the company.
Bell says its High-Speed Vertical Take-Off and Landing aircraft could be used for a "range of missions from unmanned personnel recovery to tactical mobility". The aircraft could also come in a variety of sizes, from a gross weight of 1,810kg (4,000lb) to more than 45,400kg – roughly twice the weight of the US Air Force's Bell Boeing CV-22 Osprey tiltrotor.
Of the three VTOL aircraft represented in Bell's rendering, two appear to be manned and one unmanned. All have a degree of low-observability shaping, including canted vertical stabilisers. One aircraft has an air intake hidden atop its fuselage, presumably to reduce the radar reflection of its jet engine.
Bell does not disclose prospective customers for the aircraft, though one jet appears to have "US Air Force" written on its fuselage and another has the service's insignia. In September 2020, the US Air Force Special Operations Command said it was looking for a VTOL aircraft with "jet speeds" to replace its CV-22 tiltrotor.