Boeing has received a $247 million contract to build six additional MH-47G Block II Chinook helicopters for the US Army Special Operations Command.
Deliveries will commence in 2023, with the deal bringing Boeing's total special forces contract for the type to 30 examples, says the company.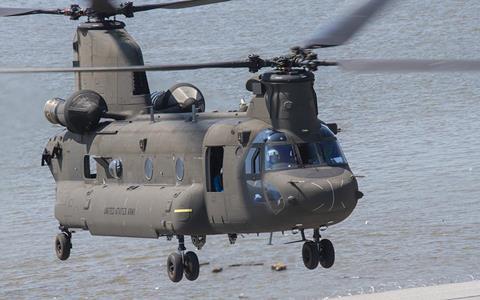 The six additional aircraft will be the first to include the Active Parallel Actuator Subsystem (APAS). The system aids manoeuvrability and improves safety.
"APAS is one of many next-level capabilities that allows the Chinook to deliver more payload – faster, farther and smarter," says Andy Builta, Boeing vice-president and H-47 programme manager.
The first example of the previously-contracted 24 MH-47G Block II Chinooks was delivered in 2020 from Boeing's Philadelphia, Pennsylvania factory.
The Block II variant of the venerable Chinook comes with several improvements. These include redesigned fuel tanks that are lighter and carry more fuel, a strengthened fuselage for carrying heavier loads, and an improved drivetrain that is supposed to handle 9% more torque.
Cirium fleets data suggest that there 954 CH-47-family helicopters in service globally with 28 operators. The biggest operator by a considerable margin is the US Army with 510 examples, followed by the Japan Ground Self-Defense Force with 65 examples.
The average age of the in-service fleet is 28.6 years.
Globally, there are 83 CH-47-family helicopters on order.