Offshore helicopter operators Bristow Group and ERA Group are to merge, creating a business with a combined $1.5 billion turnover and a fleet of over 300 rotorcraft.
Effectively a reverse takeover of ERA, the new entity will be known as Bristow but retain the former's New York Stock Exchange listing.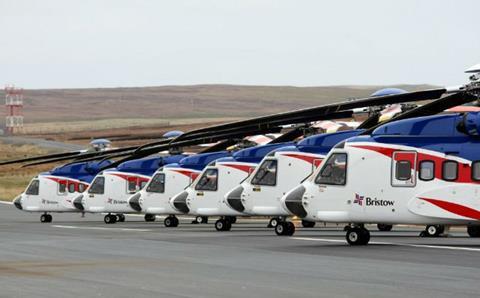 "This merger achieves more efficient absorption of the significant fixed costs required to run an air carrier and better positions the combined company to manage industry challenges," says ERA chief executive Chris Bradshaw.
Bradshaw will become chief executive of the merged business.
Bristow emerged from Chapter 11 bankruptcy protection in October having ditched around $900 million of debt in the process.
ERA is one of the few offshore helicopter firms not to have entered a restructuring process, with US rivals CHC Helicopter and PHI having both undergone Chapter 11 in recent years.
For the three months ended 31 September 2019, ERA recorded a net loss of $1.9 million and $2.9 million for the nine-month period, against respective profit figures of $31 million and $19 million for the previous year.
Bristow's loss for the three months ended 30 June 2019 was $169 million, albeit including significant restructuring costs.
As of 31 September, ERA had a fleet of 105 rotorcraft, including 36 Leonardo Helicopters AW139s; it also holds orders and options for 13 AW189s and five AW169s. ERA is also the launch customer for the AW609 tiltrotor, although the type is not listed in its financial statements.
Bristow, meanwhile, had 216 helicopters in its fleet at end-June, with a further 26 on order.
The two companies boast that the combined operation will own over 80% of its fleet. They expect the transaction to close in the second half of 2020.
While both firms have significant operations in the USA and elsewhere, ERA has no presence in the North Sea region. Aside from oil and gas operations, Bristow also runs a national search and rescue contract in the UK.