Further details have emerged of the restructuring carried out by helicopter operator CHC Group of its European operation, revealing the appointment of a slate of new directors following the unexplained departure of senior managers last month.
On 17 September, Europe Middle East and Africa (EMEA) regional boss Mark Abbey, EMEA finance head Roy Middleton and EMEA legal chief Kate Standring were axed as directors of operating unit CHC Scotia. They were replaced by a team of senior leaders from the wider business, including group chief executive David Balevic.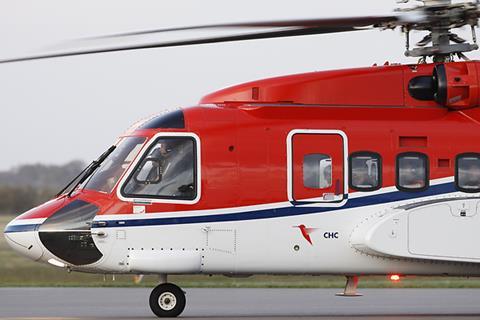 At that point Abbey and Middleton remained as directors of sister company CHC Holding (UK), alongside Per Andre Rykhus, whose sudden departure as head of the Norwegian business prompted a short grounding of CHC's flights in that country.
But company records, published on 3 October, show that Abbey, Middleton and Rykhus had their directorships of CHC Holding (UK) terminated on 19 September.
They were replaced by Jon Hopkinson, CHC vice-president of safety, compliance and flight standards, Carolyn Forsyth, general manager, sales, commercial and customer support at sister MRO business Heli-One, and CHC senior vice-president of operations and supply chain Miguel Angel Carrasco.
Hopkinson was also appointed as a director of CHC Scotia on 26 September, company filings show, with Balevic ending his directorship of that business on the same date.
CHC Scotia's other directors are Carrasco and Kevin Spengler, who is vice-president of Heli-One.
Standring was also dismissed from her directorships of Heli-One (UK) and Heli-One Holdings (UK) on 18 and 19 September, respectively; Carrasco was appointed as a director of both companies on the latter date.
Balevic says the company needs to better align itself with the changes seen in the offshore market over the last decade. "Now we enjoy a stronger balance sheet, we have the flexibility we need to meet these market changes," he says.
"In short, we are dividing the business into flight operations and technical operations. Both will maintain the mandate to drive our safety culture and deliver great customer service. Our new simpler, streamlined structure better reflects the size of our business and opens opportunities for increased collaboration, delegated responsibility and smarter, quicker, decision-making.
"Duncan Trapp, vice-president, safety and quality, is retiring from the business shortly after the CHC Safety and Quality Summit [on 11-13 October]. As part of a transition plan shared internally last month, Jon Hopkinson has joined the senior leadership team as our new vice-president for safety, compliance and flight standards role."

Dominic Perry is deputy editor of Flight International but also contributes extensively to flightglobal.com. Although specialising in the coverage of the helicopter industry, he has written on most topics in aerospace – be they commercial, defence or business aviation. In addition, there has been an increasing focus on the decarbonisation of the industry and zero-emission flight initiatives.
View full Profile