Hindustan Aeronautics (HAL) is moving ahead with its Indian Multi-Role Helicopter (IMRH) programme.
Speaking to FlightGlobal, G Syam Nath, executive director, HAL, says the IMRH design has been frozen and the company awaits formal government clearance for the programme, which has thus far been company funded.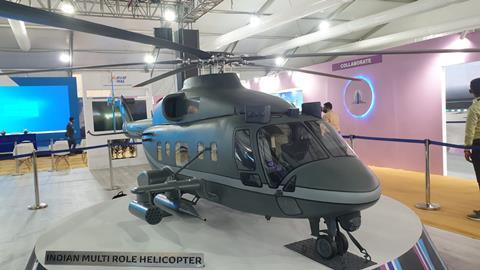 Overall development costs are expected to exceed Rs150 billion ($1.9 billion). Nath estimates a total requirement for 400 helicopters from the Indian armed forces.
The Indian air force is slated to begin phasing out its Mil Mi-17s in 2028.
Nath says the airframer is now looking to begin a detailed design phase, which will be completed around 2025. Design and development is expected to take around eight years, delivering a military certified helicopter post 2031.
Prototype helicopters will begin test flights with existing engines available on the market. However, these currently deliver 20% less power than what is required for the IMRH.
The army variant of the IMRH will have a gross weight of 13t, while the navy variant's gross weight will be 12.5t. In its utility configuration, the IMRH will seat 24 troops, which can increase to 36 in a high-density configuration.
Nath says the IMRH will exceed the performance specifications of Mi-17 variants in every respect, including speed and payload. HAL has retained the same rotor dimensions for the five-bladed rotor as the Mi-171V.
The IMRH is to have a service ceiling of 21,300ft, a maximum cruise speed of 145kt (270km/h), an endurance of 3h and carry a 4,000kg (8,820lb) payload.
The airframer will move to a five-bladed articulated rotor for the IMRH as opposed to the hinge-less rotor design for the Dhruv and Light Combat Helicopter.
The navy has asked for auto-folding blades, but HAL is not too keen on this as it will add a 200kg weight penalty along with reliability constraints.
A scale model of the IMRH army variant is on display at HAL's Aero India stand. It is fitted with stub-wings mounting rocket and gun pods, a chin-mounted electro-optical/infrared sensor, and a defensive aids suite. Compared with the full-sized mock-up first displayed in 2017, HAL has moved the transmission in front of the engine.