The US Navy (USN) has begun its search to replace its fleet of Sikorsky MH-60R/S Seahawk helicopters and Northrop Grumman MQ-8B/C Fire Scout unmanned air vehicles (UAVs).
The Office of the Chief of Naval Operations has launched an analysis of alternatives activity to identify what maritime strike capabilities need to be replaced when the MH-60R/S and MQ-8C fleets begin to reach their end of service in the 2030s. The service is calling the effort the "Future Vertical Lift Maritime Strike analysis of alternatives", according to a request for information posted online on 28 January.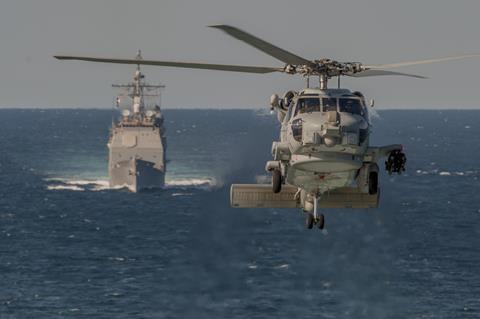 "This new capability is expected to have an [initial operating capability] in the mid-2030s timeframe to support all described navy missions", says the USN.
The MH-60R/S is the service's premier submarine hunter and anti-surface warfare helicopter, though it also has a secondary role as a utility helicopter that conducts search and rescue, cargo resupply, personnel transport, medical evacuation, and communication relay work. The MQ-8C is an unmanned maritime helicopter, which only reached initial operating capability in 2019. It currently conducts limited intelligence, surveillance and reconnaissance, as well as precision targeting, work, though the USN is examining whether weapons and additional sensors could be added to it.
To inform its search for replacements for the manned helicopter and UAV, the USN wants to study "capability gaps due to the increasingly sophisticated adversary as well as capacity gaps incurred with aging and expected retirement of the MH-60 Seahawk helicopters and the MQ-8 Fire Scout unmanned air vehicles", it says in its notice.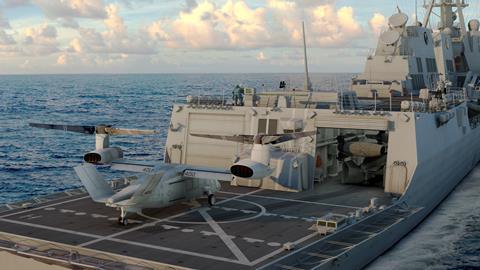 The USN's decision to name its effort "Future Vertical Lift Maritime Strike" likely foreshadows a plan to dovetail with the US Army's Future Vertical Lift umbrella initiative, which is already underway. As part of that, the US Army aims to replace its Sikorsky UH-60 Black Hawk – a predecessor to the MH-60 Seahawk – with the Future Long Range Assault Aircraft (FLRAA). The service also aims to replace its retired Bell OH-58 Kiowa Warrior scout helicopter with the Future Attack Reconnaissance Aircraft (FARA).
Sikorsky's Raider X, a rigid co-axial helicopter with a pusher propeller, is competing against Bell's 360 Invictus, a compound helicopter, in the FARA competition.
A Sikorsky-Boeing team's Defiant X, a rigid co-axial helicopter with a pusher propeller, is competing against a production variant of Bell's V-280 Valor demonstrator in the FLRAA competition. The US Army wants to field FARA by 2028 and FLRAA by 2030, meaning the USN could piggyback on development and production efforts of those programmes by ordering maritime variants of the rotorcraft later.