The US Navy (USN) is planning a flight demonstration and possible prototyping competition to help find a new ship-borne unmanned air vehicle (UAV).
The effort is being run by Innovation and Modernization Patuxent River, a partnership between the Naval Air Warfare Center Air Division AirWorks prototyping group and Georgia Tech Research Institute.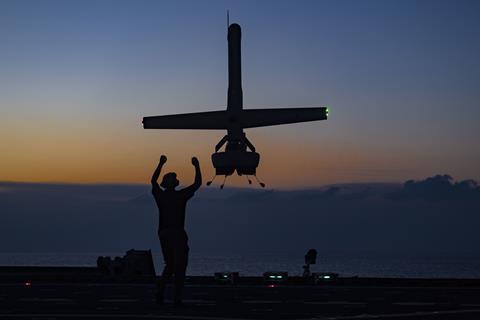 The Naval Air Warfare Center Air Division plans to sponsor a technology demonstration for select UAVs between 30 November and 18 December 2020 at Yuma Proving Ground in Arizona. After that the USN may award prototyping contracts to more than one manufacturer to improve their drones.
To pay for prototypes, the service plans to use its Other Transaction Authority, a government process that has fewer regulations compared to traditional acquisition programmes.
"Any awarded [Other Transaction Authority] have the potential to become a part of a future programme of record estimated to be worth up to $1 billion," says the USN.
In particular, the service wants a UAV that could be flown from austere environments without dedicated launch and recovery equipment. It wants a drone that could be launched and recovered with an 11.3kg (25lb) payload; have 300W of electrical power available for payloads; a more than 12h flight endurance; a 70nm (129km) line-of-sight range for command and control; and be able to launch and recover within a 7m (23ft) diameter circle area.
The UAV also should be able to send back full-motion video in day or night. And, it should have encrypted command and control and data links.
The USN operates a number of smaller UAVs, including the Boeing Insitu ScanEagle and RQ-21 Blackjack.
The service's effort to procure a small UAV follows a similar initiative by the US Army called the Future Tactical Unmanned Aerial System development contest. The latter activity is under way, with Arcturus UAV, L3Harris, Martin UAV and Textron competing.