EasyJet director of engineering and maintenance Brendan McConnellogue raised eyebrows when, during his keynote speech at the MRO Europe conference in October, he argued that OEMs deliver more innovation in aircraft support than MRO providers.
He cited Airbus's introduction of the data-recording and transmission device FOMAX and the predictive maintenance possibilities it facilitates. The unit hugely increases the volume of available technical data on A320-family and A330 jets, and was introduced to serial production in 2018.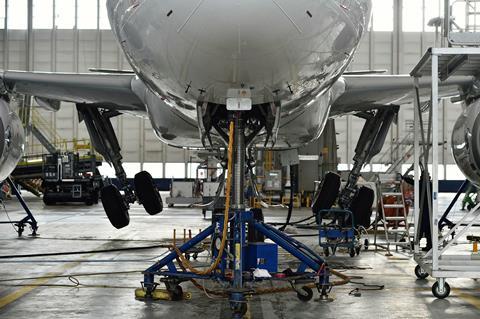 EasyJet was a partner in the equipment's development and an early adopter of Airbus's digital services platform Skywise, which provides access to, and analytical tools for, the FOMAX data. McConnellogue hails predictive maintenance as "the new oil" and says it has had an "untold" effect on EasyJet's ability to reduce technical disruption.
Automated alerts which indicate a component's performance degradation and prompt its replacement before a failure have reached success rates above 90%, he says.
MRO providers have not, in his view, made comparable advances. "It is fair to say we see more innovation from the manufacturers as opposed to the aftermarket," he says. "We must see the same change in the aftermarket. We are not seeing any seismic shift towards maintenance efficiency that will drive [turnaround time]; no-one is coming forward."
Airbus's introduction of FOMAX and its provision of the data through a basic free subscription to Skywise are central to its strategy to grow aftermarket share. Its substantial investment in the system's development is unsurprising, given that the digital services differentiate Airbus's aftermarket offering from that of traditional MRO providers and place Skywise at the centre of support activities for new-generation aircraft.
Boeing and other manufactures have made similar moves to grow their aftermarket businesses.
Klaus-Peter Leinauer, director of sales and marketing at engine overhaul shop Aero Norway, acknowledges that many MRO providers lack the financial resources to invest in large-scale innovation projects such as non-OEM repair development. Price pressure has constrained R&D spending, he believes. "If prices were sensible and customers were willing to pay a bit more, I would think the [MRO] sector would be more innovative too," he says.
Merely calling for more innovation is "not enough" to change the situation, he warns.
COMMITMENT TO CHANGE
Rather, long-term partnerships between airlines and MRO companies are required. This would require "commitment from both sides", reciprocal access to know-how and, perhaps most importantly, higher prices, which could fund development of new solutions which in turn may generate savings at a later point.
However, Leinauer argues that the prospect of savings should not be the sole motivation to pursue innovation, as in the absence of targets, there is freedom to develop technology that, even if it doesn't deliver the desired outcome, can still create useful experience. "But I don't see that [attitude] at the moment," he says.
Lufthansa Technik vice-president of corporate strategy, business development and innovation management David Doyle has sympathy with the argument made by McConnellogue. "If you look at our competitors, I might agree with them [EasyJet]," says Doyle. But he sees his own organisation as different. "We can take that [argument] as a challenge."
Doyle says LHT invests "somewhere north of €50 million [$56 million] a year in innovation", adding that the German MRO group's spending in this area "is monitored directly by chief executive Johannes Bussmann because it has such a high priority for us".
The majority of R&D projects are, iceberg-style, "below the surface", he says. Noting the significant annual escalations in spare-part prices charged by manufacturers, Doyle asserts that LHT's innovation efforts are "primarily focused on making sure we don't pass that on to our airline customers".
LHT is probably in a better position than other third-party MRO providers – especially standalone ones – because it supports its parent airline group's fleet of some 760 aircraft. Cost-saving technologies quickly generate return at a tangible scale for LHT's sole shareholder, and can then be deployed to the benefit of third-party customers.
Air France-KLM's technical division is in a similar position. James Kornberg, director of innovation at Air France Industries KLM Engineering & Maintenance, says the group has a dedicated R&D budget too and has established internal structures to encourage innovation. But he cautions: "It's not just a question of money."
In Kornberg's view, key ingredients in the development of new MRO technologies and processes are an "understanding" of airline operations and an ability to devise solutions that "work for the airline". AFI KLM E&M and LHT have both repeatedly drawn attention to their roles as airline-owned MROs and argued that their services are based on operational experience, where a manufacturer's core competency lies in aircraft design and production.
Kornberg says the MRO provider's role has changed from service supplier to airline "partner". He points to the example of AirAsia, which uses the predictive maintenance tools offered by AFI KLM E&M's "Prognos" software suite. Kornberg says AFI KLM E&M has seconded staff to the budget carrier to jointly address operational issues. "We work together to be able to develop innovations that help the operation… I think that makes the difference."
AFI KLM E&M last year established an "MRO Lab Factory" in Paris for employees to develop prototypes for parts or tools that may deliver maintenance savings. Located close to an MRO hangar, the facility contains 3D printers, scanners and laser cutting machinery – equipment, which, Kornberg notes, was difficult to access for employees in the past.
"It's no big investment and creates a lot of value and, most importantly, you train technicians to use the latest technologies," he says. "When we created the station, we didn't know what would be the results. But the results are there."
SINGULAR APPROACH
Leinauer views innovation as the only way for MRO providers to differentiate themselves as manufacturers strive to capture a greater share of the aftermarket.
The opportunity for MRO providers, he contends, lies in the development of individualised services, because there are limited opportunities for alternative repairs and spares supply on new-generation aircraft as manufacturers guard their intellectual property ever more closely.
"If they [MRO providers] don't do anything and just follow the OEMs when it comes to material and repair, then they are not attractive anymore and have no possibility to complete on price," Leinauer warns.
There is potential in modular engine maintenance, he believes. Rather than sending entire engines to overhaul shops for repair of local damage in, say, a fan module or low-pressure turbine, it is possible to replace just the affected assemblies while the engine stays on wing. Operators might thus benefit from the slightly more forgiving part limits specified in aircraft maintenance manuals, as opposed to the engine shop manuals that apply when a powerplant comes off wing.
Leinauer notes that module engine maintenance requires provisioning of spares and "very close" co-operation between an airline and MRO provider so that equipment can be replaced swiftly at appropriate locations without operational interruption. This necessitates long-term partnerships between MRO providers and airlines rather than ad-hoc maintenance events. "This doesn't work for [any airline]. It depends on the operation… The larger the fleet, the more flexible you can be," Leinauer says.
Modular engine maintenance has been adopted by a number of airlines, he reports. It is particularly suited to third-party MRO providers because manufacturers tend not to be flexible enough to adjust their maintenance operations around airlines' individual operational requirements.
Leinauer says increased demand by airlines for highly tailored services has called into question previous efforts by engine manufacturers and MRO providers to establish "pulse" maintenance lines modelled on automotive assembly lines. Based on lean manufacturing philosophies, engine manufacturers and MRO providers have laid out facilities such that engines move through different workstations at a pre-defined pace in order to improve efficiency.
This model has enabled service providers to increase capacity and reduce costs. But it has arguably also made overhaul shops less flexible in responding to customer requirements for individualised workscopes and part supplies – for example, used serviceable material rather than new spares – which can disrupt the flow.
"What was good 15 years ago and came from the automotive industry is not necessarily good anymore, because the [MRO] operations and understanding of engines has changed," Leinauer says. "The more engines go through a shop, the more critical are the logistical challenges."
HANDS-ON EXPERIENCE
Doyle is sanguine about LHT's prospects as a third-party MRO provider despite manufacturers' designs on aftermarket growth. "We don't feel under threat simply because we are confident in our expertise and the solutions that we develop," he says.
In his eyes, the "core" of the MRO sector is "working on the airframe, components and engines", largely manual tasks that require skill and experience. "We cannot replace mechanics with robots due to the nature of the work – the variability and volatility is just too high." innovation, he suggests, "is what you build around that [technical know-how]". Kornberg has a similar view: "When you develop innovations, you need to be very close to the technicians, because the technicians… have the best ideas."
There appears, perhaps unsurprisingly, to be a consensus among third-party MRO providers that aircraft manufacturers have not, in fact, developed much maintenance know-how and that they lack understanding of airlines' operational requirements. Doyle says pf Airbus's and Boeing's aftermarket efforts: "In order for them to build up significant market share, they are going to have to build up or acquire a lot of capability – and capability means mechanics."
Airlines, he contends, ultimately select maintenance facilities based on operational requirements. "The real value that has to come from innovation, be it digital or be it physical, can only be measured at the end of the day in cost per flight hour in maintenance and increases in technical dispatch reliability," says Doyle. "And it's got to be measured by the airline at the end of the day."
This analysis was written by Michael Gubisch, who is part of Cirium's London-based reporting team