US discounter Breeze Airways plans to boost air service to the underutilised West Virginia International Yeager airport in Charleston by connecting it to at least five cities over the next two years.
Breeze will start rolling out the new routes on 31 May with nonstop flights to Charleston International airport in South Carolina and Florida's Orlando International airport. At least three more destinations – including New York City – will be added within the next 24 months, the West Virginia Department of Tourism said on 28 March.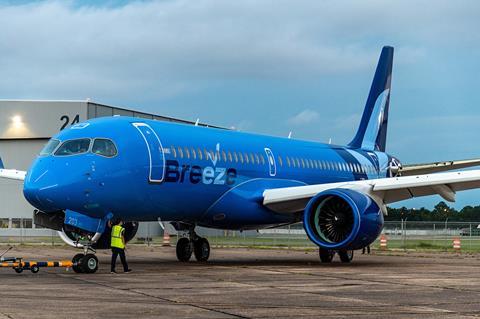 "This innovative partnership comes after years of decline in available destinations from smaller airports around the country, including West Virginia International Yeager airport," the tourism department notes. "The flights announced today will more than double air connectivity to West Virginia's capital."
"I've said over and over that our airports in West Virginia are our lifeblood," says Jim Justice, governor of West Virginia. "They fuel our economy, bring in tourism and their ripple effects are off the charts."
Launched in 2021 by David Neeleman – founder of WestJet, JetBlue Airways and Brazil's Azul – Breeze operates a fleet of Airbus A220s and Embraer E-jets, competing for a slice of the crowded North American discount market.
Initially, the ultra-low-cost carrier focused on growing its network in the Southeast USA and has since expanded westward to cities such as Las Vegas, Los Angeles, Phoenix and San Francisco.
Utah-based Breeze's point-to-point network now include 36 cities and remains concentrated on the East Coast of the USA.
Breeze has 11 new A220-300s in service and one in storage, and has orders for 68 more of the type on the books with Airbus, according to Cirium fleets data.