Cathay Pacific Group expects to reach pre-pandemic capacity by the end of 2024 – the first time the group has revealed a full recovery timeline – as it eyes a "measured and responsible" ramp-up in the coming months.
In a statement released on 14 November, outgoing airline chief Augustus Tang also acknowledged the "short-term bottlenecks" the airline will face in restoring capacity, especially with pilot recertification and aircraft reactivation, but vowed to "expedite" the process by bolstering its capabilities.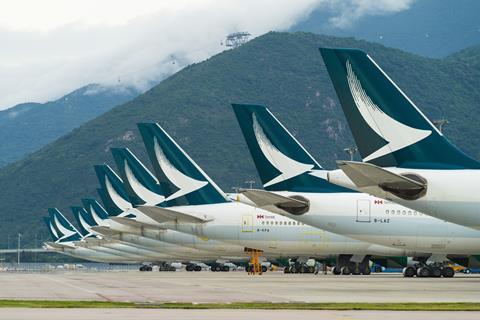 The disclosure comes about a month after Hong Kong authorities began easing onerous travel restrictions into the city, including the scrapping of hotel quarantine.
Tang, who steps down from the airline at the end of the year, says the group is on track to operating at around one-third pre-pandemic capacity by the end of 2022, which he notes is two times higher compared to August, before the easing of measures.
By end-2023, the airline expects to operate at around 70% pre-pandemic capacity.
"We are taking a measured and responsible approach to managing our own road to recovery, with a need to address challenges that are unique to Hong Kong," he says.
"[Our] recovery trajectory is in line with other carriers that don't benefit from a domestic market in terms of the time taken since borders began to open," adds Tang.
Reiterating the point that the airline was "confident" of its own prospects – and that of the Hong Kong aviation sector – Tang points out that the road to recovery will not be without its challenges.
"As the COVID-19 situation eases, airlines around the world have been rebuilding their capacity. This requires the global aviation ecosystem, including airports, suppliers and our own airlines, to undertake a substantial amount of preparation with regards to crew and ground employees, aircraft reactivation and recruitment.
He adds: "This is a challenge faced by airlines, industry suppliers and airports around the world and one which takes time and robust planning to overcome."
He stresses that the airline has "sufficient" manpower based on current schedules, and that its hiring pipeline "will ensure this remains the case throughout the recovery".
The airline has warned that full recovery will "take some time" given operational "complexities", but had never committed to a clear timeline. In traffic results for September, the airline's capacity and traffic stood at around 16% of 2019 levels. It also said then that it was "on course" for recovery.
Unlike some of its peers in the region, Cathay's road to recovery has been long-drawn, as a result of Hong Kong's now-scrapped 'zero-Covid' policies, which efffectively cut off the city – once a global financial hub – from the rest of the world.