Several European operators have announced more tentative steps to restoring their networks, including the resumption of services by Lufthansa Group operators Austrian Airlines and Brussels Airlines in June.
Austrian Airlines, which suspended flights on 19 March, has today announced it will resume scheduled flights to mostly European cities in mid-June.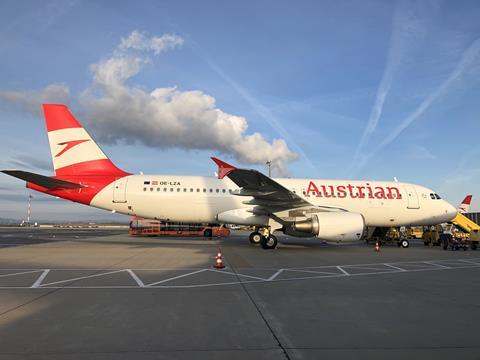 From 15 June, Austrian will resume short-haul services to 27 cities including Amsterdam, Brussels, Frankfurt, London Heathrow and Paris Charles de Gaulle. It will also operate flights from Vienna to Tel Aviv in Israel.
The airline will add 10 more cities from 22 June. These will include Milan, Nice, Prague and Warsaw.
Austrian's sister carrier Brussels Airlines, which stopped flights on 21 March, will also resume flight operations on 15 June. It will offer a route network of 59 destinations between June and August.
Lufthansa will from 15 June resume 20 more routes from Frankfurt and 34 from Munich. This will increase Lufthansa's flight schedule from around 500 to almost 900 weekly connections at Frankfurt and Munich during June.
The German carrier will add long-haul flights from Frankfurt to Cairo, San Jose in Costa Rica and the Chinese cities of Beijing and Shanghai. It is adding San Francisco, Delhi, Montreal and Seoul from Munich.
Other group carriers Air Dolomiti, Edelweiss, Eurowings and Swiss are also adding capacity in June. Notably low-cost unit Eurowings will add 40 new European destinations to its schedule and double its operational fleet to up to 20 Airbus aircraft by the end of June.
IAG carrier Iberia, which is operating minimum services predominantly connecting Madrid to the Canary Islands, is to gradually resume its short and medium-haul flight programme from the start of July.
Iberia - and its Iberia Express and Iberia Regional units - will fly to at least 40 destinations in July, rising to 53 destinations in August. This represents just over a fifth of its normal short and medium-haul programme.
Iberia adds that is prepared to resume long-haul flights "as soon as conditions allow and quarantine and travel restrictions are lifted in the countries served by Iberia".
Greek carrier Aegean Airlines meanwhile will from 15 June restart flights from Thessaoloniki to four German cities, Dusseldorf, Frankfurt, Munich and Stuttgart, as well as Larnaca in Cyprus. The carrier also plans to reinstate Tel Aviv flights from the airport once travel restrictions are lifted.

Based in London, Graham has been with FlightGlobal for over 20 years predominantly working across its online news platforms and Airline Business. With a focus on developments across the airline industry as a whole, and within Europe in particular, Graham has also edited FlightGlobal daily papers from events such as the IATA AGM, moderates industry panels and co-presents the Airline Business podcast.
View full Profile