Lufthansa's low-cost subsidiary Eurowings will establish a base at Prague airport with initially two Airbus A320s scheduled to begin operations on 31 October.
Eurowings says it will add a third A320 to the base – its 10th across Europe – for the summer 2022 season and create more than 100 new jobs in Czech capital.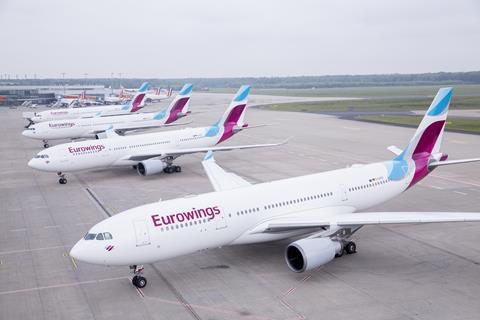 The initiative will provide "important employment impulses for the Czech aviation market", the carrier suggests.
Initial destinations include Athens, Barcelona, Birmingham, Copenhagen, Milan, Stockholm and Tel Aviv. Flights to Spain's Balearic and Canary islands and to Greek islands are to become bookable from 22 June, Eurowings says.
Chief executive Jens Bischof states: "Eurowings will offer non-stop connections to Czech business travelers and vacationers alike – just in time for the relaunch of air traffic after the long-time corona crisis."
He adds that the carrier will offer "local touch combined with top-notch customer-friendly services at our Prague base that will clearly distinguish Eurowings from low-cost airlines".
Eurowings describes itself as an airline that "combines Lufthansa's DNA with an unbeatable value-for-money concept".
In February, Czech Airlines (CSA) filed for reorganisation under insolvency regulations as "the last option to save the company", it said at the time. The former flag carrier – now a subsidiary of Czech carrier Smartwings – urged the nation's government to provide financial support amid the crisis.
Cirium fleet data shows that CSA operates an A319, an A320, and a Boeing 737-800 that was previously part of Smartwings' fleet. Three ATR 72 turboprops in CSA's fleet are listed as being in storage.