London Heathrow airport's operator is calling for the USA to be opened up for restriction-free travel to the UK after disclosing April passenger numbers that were down by more than 90% on pre-crisis levels.
The UK's primary hub handled 536,000 passengers last month, a reduction of 92% – or 6.2 million passengers – on April 2019. Comparison with 2020 is distorted as air travel was all but grounded as the first wave of the pandemic took hold.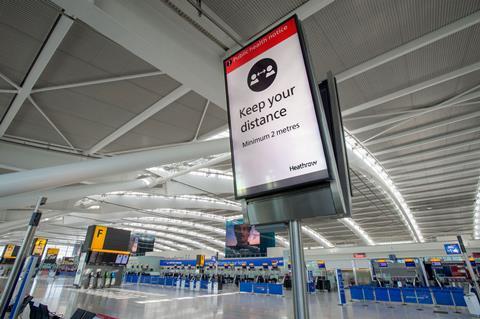 Passenger numbers at Heathrow over the past 12 months are 86.7% down on the previous year.
The UK will on 17 May allow quarantine-free travel from 12 countries in the first step towards the lifting of air travel restrictions imposed to counter the pandemic. But the limited number of countries on the green list, which contained just one large outbound tourism market in Portugal, has been criticised by airline bodies.
In particular, Heathrow Airport argues that the USA – which has rapidly progressed its vaccination roll-out – should be on the green list of countries.
Heathrow Airport chief executive John Holland-Kaye says: "The [UK] Government's green list is very welcome, but they need to expand it massively in the next few weeks to include other low-risk markets such as the United States, and remove the need for fully vaccinated passengers to take two expensive PCR tests."
The UK is due to review the countries on the green, amber and red lists, under its 'traffic light' system, every three weeks.
In announcing the plans, the UK Government warned that longer waits are likely on re-entering the UK because of the additional checks relating to the requirement for a completed passenger locator form and proof of negative Covid test.
"The government is constantly trying to improve processes to make them as efficient as possible to minimise wait times, and will be committing to increasing Border Force resources to manage increased demand," the government said. "This includes deploying additional Border Force officers where high volumes of passengers are expected."
But while welcoming plans to automate border checks, Heathrow argues that until these are implemented, ministers should ensure that every desk is staffed at peak times
"Border Force's claims that 'long queues in immigration are inevitable' smack of complacency," says Holland-Kaye. "They are completely avoidable if ministers ensure that all desks are staffed at peak times."