Carriers resumed international flights to the Thai resort of Phuket today under the 'Sandbox' initiative aimed at reigniting travel to the region.
Etihad Airways, Qatar Airways, El Al and Singapore Airlines all operated flights to Phuket today, while Air Arabia, Emirates and Oman Air are due to carry out services tomorrow.
The Sandbox initiative, which launched today, allows vaccinated travellers into Phuket without having to serve quarantine, though visitors have to meet a number of requirements as part of efforts to mitigate the spread of Covid-19. The move is aimed at kick-starting international travel to the Thai island, tourism to which has been shattered by the coronavirus pandemic.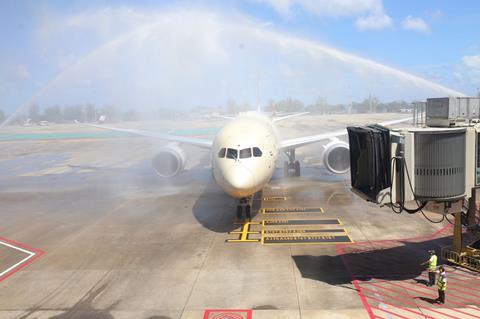 Etihad's flight from Abu Dhabi, its first service to Thailand since the pandemic, was greeted with a water cannon salute.
Etihad senior vice president of global sales and cargo, Martin Drew, says: "Etihad's return to Phuket is a fantastic step forward as we reopen a very popular holiday destination for travellers from the UAE, and we're proud to be the first international flight to arrive since the pandemic halted travel last year."