Restructuring low-cost carrier Norwegian operated an average of just eight aircraft in January as a result of services curtailed by travel restrictions.
Traffic figures released by the airline show it carried just under 75,000 passengers for the month – a drop of 96% on the same month in 2020. It is an even sharper fall than the near 130,000 it flew in December, itself 94% down on the corresponding month in 2019.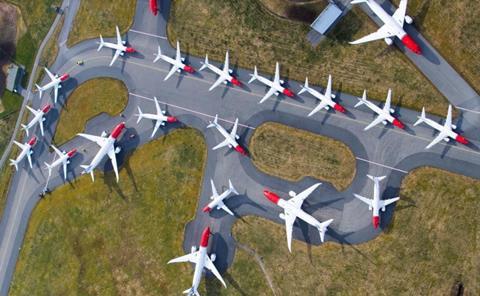 The drop in traffic, as measured in RPKs, was even sharper – down 99%. The heavier fall in part reflects that it operated predominantly domestic routes in January, while at the same point last year it was still flying some long-haul services.
Norwegian, which has entered a formal restructuring process, in January said it would scrap long-haul operations to focus on its short-haul network as it strives for viability.
The airline's capacity was down 98% and load factor tumbled 45 percentage points to just 35.9% in January.
Norwegian chief executive Jacob Schram says: "The pandemic continues to have a negative impact on our business as travel restrictions remain. We are doing everything in our power to come out of the examinership as a stronger, more competitive airline and we look forward to welcoming more customers on board as travel restrictions are lifted."