Continuing the westward expansion of its domestic network, Porter Airlines said on 15 December it is adding Calgary International airport to its list of destinations.
Porter will begin operating two daily nonstop flights from Toronto Pearson International airport to Calgary starting 22 February, the airline says.
"The airline's entrance into the Alberta region signals strength in the industry's confidence in our airport and region," says Rob Palmer, chief financial officer of the Calgary Airport Authority. "We look forward to working with Porter to deliver elevated experiences for our guests and bringing more economic benefits to our communities."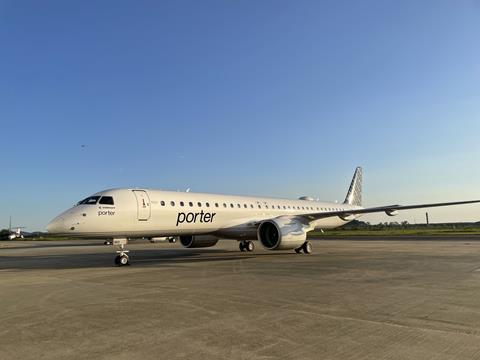 Earlier in December, Porter said it would be rolling out new routes to Edmonton and Vancouver in February 2023, representing the Toronto-based regional carrier's first flights to western Canada, as well as Montreal and Ottawa. Porter will start operating three daily nonstop flights from Toronto to Edmonton on 14 February.
Porter will spearhead its western expansion with new, 132-seat Embraer E195-E2s. Porter has firm orders for 50 E195-E2s and purchase rights for 50 more, for a total list-price value of $7.38 billion if all options are exercised.
The airline is expecting to soon receive the first of the Pratt & Whitney PW1900G-powered twinjets – which will become the first of the type to operate in North America after recently being certificated by Transport Canada – at Embraer's Sao Jose dos Campos plant in Brazil.
Based at Toronto's secondary airport Billy Bishop Toronto City, Porter currently operates a fleet of older 29 De Havilland Dash 8-400 turboprops. The airline is building hangars at Ottawa International airport that will serve as its maintenance centre for the incoming Embraer aircraft.