European budget carriers Ryanair and Wizz Air in June recorded their strongest months for passenger traffic since last summer as markets in the region began to ease Covid travel restrictions.
Ryanair carried 5.3 million passengers in June, a sharp rise on the 1.8 million passengers it handled in May, which itself was its strongest traffic performance since December 2020.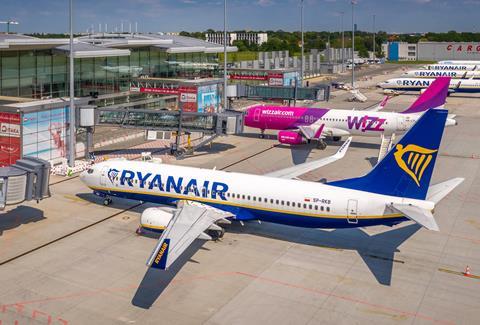 It marks Ryanair's second busiest month for traffic since the pandemic hit, only surpassed by the 7 million passengers it flew in August 2020.
However while passenger levels improved for June, they remain at only a little over a third of the 14.2 million Ryanair carried in the same month in 2019.
Ryanair operated 38,000 flights in June, more than treble the 12,000 flown in May. The rise in traffic did not match the sharp increase in capacity, contributing to load factors slipping to 72% from May's figure of 79%.
Rival budget operator Wizz Air carried 1.56 million passengers in June, with a load factor of 64%. That is almost double the 0.8 million customers Wizz handled in May.
The carrier's June passenger numbers are just shy of the 1.57 million it transported in September last year, and below the 2.38 million it handled last August.
It also remains less than half the 3.6 million passengers Wizz flew in June 2019.
The two carriers are the first in Europe to publish traffic figures for June.