US carriers will likely have to slog through the prime summer season and most of 2021 continuing to burn millions in cash daily as they await the herd immunity promised by mass Covid-19 vaccination.
The longer it takes, the greater the risk of airline failures, which could open the door to consolidation among US carriers.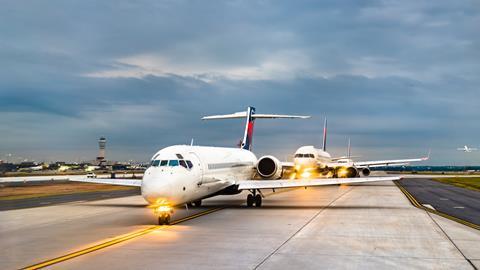 It seems likely that herd immunity must be achieved for travel demand to approximate what it was in 2019, despite airline trade groups' suggestions that co-ordinated testing protocols have the potential to eliminate quarantines and reopen markets. Many travellers will continue to avoid flying until they have a reasonable expectation that they will not catch the virus from other passengers. Proof of negative Covid-19 tests neither equates to guaranteed safety nor to open restaurants, bars, theatres and other attractions at a particular destination.
Against the backdrop of the unabated nationwide increase in daily new cases of Covid-19 following reopenings during the spring and summer of last year, there is scant evidence that increased testing leads to increased travel demand.
The US Centers for Disease Control and Prevention (CDC) states that experts do not know what percentage of the population would need to get vaccinated to achieve herd immunity. Anthony Fauci, director of the National Institute of Allergy and Infectious Diseases, told The New York Times in December that experts "need to have some humility" when it comes to predictions.
"We really don't know what the real number is. I think the real range is somewhere between 70 to 90%."
The USA's inoculation strategy for the Pfizer and Moderna vaccines has so far been too incoherent and the rate of inoculation too slow for airlines to expect 70-90% of the population to receive its two-shot doses in time for a rebound in summer travel. Resistance to vaccination in general will also likely hinder mass inoculation.
"Any administration is going to have challenges with the vaccine rollout," Bloomberg Intelligence analyst George Ferguson tells Cirium. "Vaccinating 330 million people in the US is a huge undertaking. In time we'll streamline the process and get it done but it's going to take a while, and it's going to go in fits and starts."
US carriers' total capacity has been down 45% year on year each month since November, Cirium schedules data shows. As of 13 January, US carriers' capacity in February will be down 44% compared with February 2020. There is little reason to expect these declines will improve in the absence of herd immunity and while the daily infection, hospitalisation and death rates continue to rise.
Federal management of the vaccine rollout under the incoming administration of US president-elect Joe Biden, along with the ascension to majority rule in the Senate by Biden's Democratic party, may improve during the coming months. Nevertheless, it is not known if a sharper focus on the coronavirus crisis and additional federal funds dedicated to vaccination efforts will be enough to save the summer for US airlines
Trade group Airlines for America, which on behalf of its US airline members has been lobbying for global Covid-19 testing protocols, says it "appreciates" the CDC's 12 January announcement that, effective 26 January, all air passengers entering the USA will be required to get a viral test three days before departure and provide to airlines documentation of their test results.
"US airlines have been strong advocates for a national testing standard set by the federal government," A4A says.
Ferguson says testing protocols are "interesting" but not what he terms the "recipe for success".
"They don't do as much [as vaccines]," he says. "More [testing] is better. The incremental people you get on the airplane, especially as you drive down the cost of testing, is better. The airlines need any revenue, any cash flow. [But] the vaccine is really what's going to decide when we get things open again."
Ferguson does not expect to see until "late in the year" the positive effects of vaccination on the reopening of markets and on travel demand.
"It'll be good to get a new administration to focus on it," he adds.
Cowen analyst Helane Becker says vaccine deployment has "got to get done quickly" to ensure a recovery this year.
"There needs to be some kind of guidance or coordination from the federal level rather than just handing the vaccine over to states and saying: 'Here, have at it,'" Becker says.
Becker has recently recalibrated her expectations for the first half of this year.
"We're questioning what's going to happen in spring break. Maybe six weeks, eight weeks ago, we thought we'd have a good shot at a decent spring break beginning in the middle of March and going through the end of April. And now we're wondering if we're really going to get that. We're hoping the industry can save the summer."
CASH BURN AND FEDERAL SUPPORT
Like the coronavirus itself, cash burn continues to plague US carriers.
Delta Air Lines had an average daily cash burn of $12 million in the quarter that ended in December, and expects to have a daily cash burn rate of $10-15 million during the first quarter of 2021.
American expects its daily cash-burn rate at the end of the fourth quarter to be at the high end of the $25-30 million range. Southwest Airlines and United Airlines expect an average daily cash burn of $12 million and a range of $15-20 million in the fourth quarter, respectively.
JetBlue Airways forecasts a $6-8 million daily cash burn in the fourth quarter. Alaska Air Group disclosed on 14 January that it expects to burn $125-150 million during January.
US carriers during the first quarter will get additional payroll relief from the federal government under the Covid-19 relief bill signed into law in December. The legislation allocates $15 billion to US airlines for the payment of employee wages and benefits.
Delta chief executive Ed Bastian confirmed on 14 January that the terms of this second round of payroll support are identical to that of last spring's $25 billion programme under the CARES Act. Airlines accepting payroll support cannot conduct involuntary furloughs or reduce pay rates, and must reinstate workers who were furloughed after the initial PSP expired at the end of September. Payroll support will come in the form of both direct grants and loans, and also comes with a provision that airlines must offer warrants to the US Treasury.
Additional federal support could be forthcoming in 2021.
Ferguson says further payroll support under the Biden administration and a Democratic-led Senate is likely if the vaccine rollout proceeds as slowly as he is forecasting.
"If things don't look significantly better by the time we get to the summer months, when we'd expect most airlines to make their money, I do think that there will be an appetite in Congress to continue to support those employees and support airlines."
Becker questions the need to provide additional federal funds to airlines if there are few incentives for people to travel to destinations with quarantines and closed attractions.
"[Government financing] really depends upon how fast vaccines get into people's arms over the next two months, and it also depends on whether or not things open up."
Aviation analysts during the final months of 2020 were in general agreement that US carriers have enough liquidity to survive the pandemic. Still, if the peak summer season proves to be as disappointing as it might be, consolidation proposals might be considered. A carrier pursuing an acquisition could invoke the US Department of Justice's failing-carrier doctrine, in which a merger could be potentially approved if it would save a failing airline.
Ferguson says a merger this year among US majors is unlikely.
"I don't see an appetite [among regulators] to allow major airline consolidation," he says. The big players – American, United, Delta, Southwest – it would be really hard to see any of those guys get put together with each other."
The majors aside, other US carriers "could be potentially fair game".
"I don't think that a Biden Justice department would be against allowing some of the smaller US carriers to be bought by larger ones," Ferguson says. "[For instance] Alaska has a very West Coast presence and JetBlue has a very East Coast presence. It seems like an Alaska-JetBlue consolidation is kind of interesting because you'd get more of a US footprint."
Becker has floated in the media her own possible M&A scenarios, but tells Cirium "this is something that I would not take too seriously", adding: "Our view is that in Biden administration the likelihood of M&A is probably not as great as it would have been under another Republican administration. The big issue I think is always airfares.
"That said, we know that United wanted to get back into JFK, and obviously they managed to secure some slots. One way that they could do it is to acquire an airline. The problem is nobody has the currency to do anything right now."
WILD CARDS
US carriers also must contend this year with disinformation campaigns that could impede mass vaccination or even incite violence from extremists, similar to what was seen on 6 January in Washington DC.
If in play, these wild cards would have ripple effects on travel demand and push airlines deeper into financial holes. Unfortunately, these factors do not fit neatly into outlook scenarios and business plans, and would have to be managed on the fly.
This analysis is written by Steve Goldstein, part of Cirium's North American reporting team