Alaska Airlines has ordered additional Boeing 737 Max jets as it targets phase-out of its Airbus A320ceo-family fleet by mid-2023.
The US carrier says it has ordered 23 737-9s and taken options on another 15, bringing its total Max commitments to 68 orders and 52 options.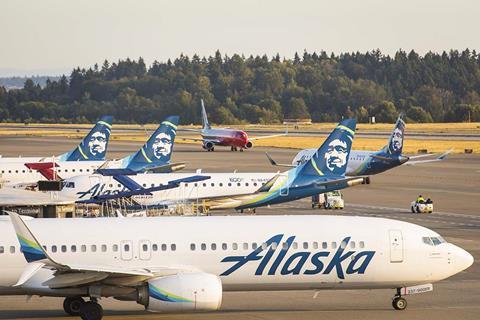 In November, Alaska disclosed an agreement to take 13 737-9s from Air Lease. The airline had in 2012 ordered 32 737-9s directly from Boeing, taking options on another 37.
Following the new deal, Alaska indicates that it will abandon an order for 30 A320neo jets that it inherited – alongside an A320-family fleet – with the acquisition of Virgin America in 2018.
"With this plan, Alaska will reduce its Airbus fleet to 10 A321neos by the summer of 2023," the airline says.
Cirium fleets data shows that Alaska has 51 A320s and 10 A319s powered by CFM International CFM56 engines,10 Leap-1A powered A321neos, and 166 737NGs.
Alaska intends to start revenue flights with its first 737-9 in March, introduce another five by the summer, and have 13 in service by the end of 2021. Some 30 aircraft are to be delivered in 2022, 13 in 2023, and 12 in 2024.
"The agreement includes mechanisms to adjust the timing of deliveries to meet economic conditions, giving the airline substantial flexibility to manage its fleet in step with network demand," Alaska says, adding that the 52 options, if converted, would lead to deliveries in the 2023-26 timeframe.
In addition to providing "superior economics" and flexibility, the "transformative" deal enables the company to exit 61 "expensive" short-term leases for its Airbus fleet, says Alaska.
It adds that the restructured order "moves the airline substantially toward a single, mainline fleet that's more efficient, profitable and environmentally friendly". The 737-9 will, Alaska estimates, be 20% more fuel-efficient than the A320ceo.
The Max returned to service earlier this month, having been grounded since March 2019.
Alaska Air Group chief executive Brad Tilden states: "We believe in this airplane, we believe in our strong partnership with Boeing, and we believe in the future of Alaska Airlines and the incredible opportunities ahead as we climb our way out of this pandemic.
"We could not ask for a better partner than Boeing and we are delighted to be standing side by side with them as we work together to get our economy back on its feet."