Romanian flag-carrier Tarom has started taking delivery of a batch of ATR 72-600s it is receiving under a lease agreement with Nordic Aviation Capital.
The operator disclosed last year that it was introducing nine of the turboprop type to modernise its fleet.
Tarom has unveiled a revised colour scheme for the new -600, registered YR-ATJ. ATR says the airline received the initial aircraft on 19 February.
The airline plans to have completed the fleet upgrade by the end of this year.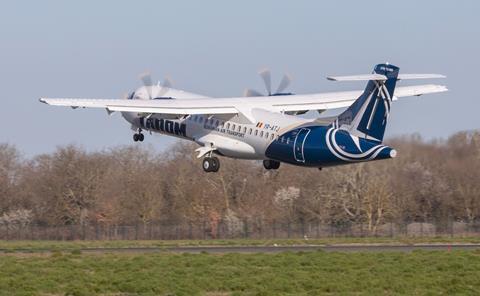 "We are going to be able to develop new routes and increase frequency and seat availability, while offering the highest levels of comfort and technology," says chief executive George Barbu.
Tarom is already an ATR operator, with older variants of the turboprop.
Its modernisation programme has been caught up in a turbulent period of management at the airline. Barbu is the latest head of the carrier, which underwent multiple changes of chief executive last year and which is the subject of discussions for rescue funding from the government.