European and US authorities have granted joint type certification to the Airbus A330-800, the smaller variant of the re-engined A330neo family.
FlightGlobal had earlier reported that the aircraft was set to receive European Union Aviation Safety Agency and US FAA certification on 13 February.
Airbus has confirmed that both authorities have approved the Rolls-Royce Trent 7000-powered twinjet.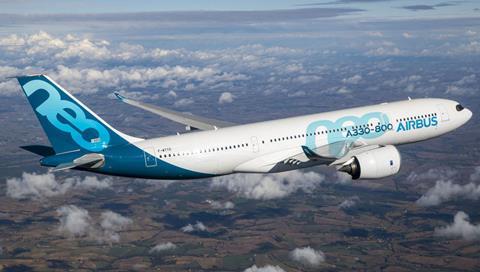 The certification flight-test campaign was conducted by MSN1888, which completed the programme in 370h and 132 flights following its first flight in November 2018.
Airbus says the aircraft has been certified with a maximum take-off weight of 242t and has a range of up to 7,500nm.
The airframer had originally intended to certify the A330-800 before the end of last year.
EASA certified the larger A330-900 in September 2018. Airbus has since delivered 45 of this variant.
Airbus has not disclosed the first delivery date – or even the customer – for the initial A330-800.
Kuwait Airways has ordered eight of the type, while Uganda Airlines is taking two, and an undisclosed customer has a firm agreement for four.
Garuda Indonesia had previously signed a letter of intent to take four A330-800s. Air Greenland has also recently disclosed plans to acquire a single aircraft.