Airbus is to increase its A321 production capability, by converting its A380 facilities in Toulouse in order to accommodate a digitally-enabled A321 final assembly line.
It will introduce A321 production to Toulouse for the first time – Airbus's largest single-aisle variant is currently built in Hamburg Finkenwerder and Mobile.
The airframer says the change – to be in place by mid-2022 – will provide "more flexibility" for A321 production, although it adds that overall single-aisle industrial capacity at Toulouse will remain "flat".
Airbus's A321neo has proven particularly popular, accounting for 3,255 orders – the equivalent of 45% of all orders for the re-engined A320neo family.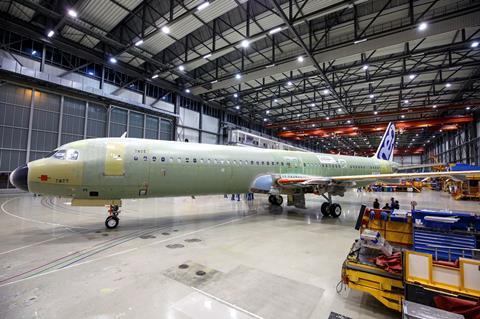 But this has put pressure on the industrial system at Airbus owing to the introduction of new variants of the A321neo as its range has increased and carriers have requested configurations suitable for these longer-range operations.
The latest of the variants, the A321XLR, is due to become available from 2023.
Airbus says it will use the A380 Lagardere facility to install a modernised A321 line, supported by digital capabilities, as part of its overhaul of production to incorporate the latest technology.
Chief operating officer Michael Schoellhorn says the measure will "optimise industrial flow" and increase production capacity specifically for the A321 models.
Airbus says it has informed its unions of the decision to place the new line at Toulouse.
Toulouse was selected for the new line for reasons of "overall competitiveness", cost of investment and time to market, says Airbus, as well as available space. The company is winding down production of its A380 at Toulouse, following last year's decision to terminate production.