Russian airframer Irkut has conducted the maiden flight of its fourth MC-21-300 test aircraft, with a Christmas Day departure from the assembly facility in Irkutsk.
The Pratt & Whitney PW1400G-powered twinjet lifted off for a 1h 40min initial sortie on 25 December, says the manufacturer.
It operated to an altitude of 3,000m (9,800ft) and speeds of up to 270kt.
Although engine covers of the aircraft during roll-out indicated the number 73052, Irkut has revealed that the airframe carries the test number 73056.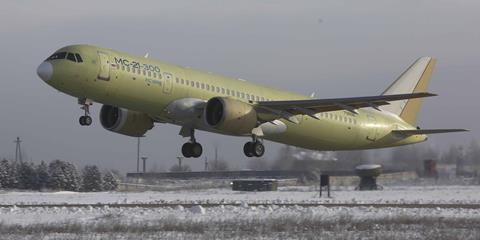 "According to the crew report the [flight tasks] were performed completely," says Irkut.
Three other MC-21-300s are already carrying out certification test flights from a facility in Moscow.
"Results from the first three MC-21-300 [test aircraft] were taken into account during production of this new airframe," says Irkut.
The aircraft will join the campaign to certify the MC-21 not only under Russian standards but those of the European Union Aviation Safety Agency.
Irkut is progressing towards completion of the first MC-21-300 to be fitted with the rival Aviadvigatel PD-14 powerplant, which is domestically-built.