UK investigators believe a thrust rollback on an Airbus A320, after which the affected engine would not respond to control inputs, resulted from inadvertent activation of a fuel-control protection valve.
But the inquiry says the issue – which has occurred previously on some International Aero Engines V2500 powerplants – has yet to be fully understood.
The Maltese-registered aircraft (9H-LOZ) was part of the Lauda Europe fleet but had been parked during the pandemic and was undergoing a routine 45min preservation flight, at London Stansted on 28 May last year, to maintain serviceability. Only the two pilots were on board.
It departed runway 22 and was subsequently vectored to carry out an ILS approach to the same runway.
The aircraft had its autothrust engaged. But during the approach, at a height of 950ft, the crew was presented with a fault warning on the right-hand engine's full-authority digital engine control.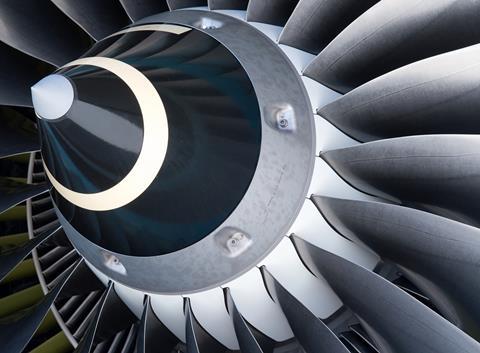 According to the UK Air Accidents Investigation Branch, the electronic engine control had had commanded an increase in target thrust to maintain the selected airspeed but, while that of the left-hand V2500 engine increased, the right-hand engine's thrust began to decline.
Its pilots opted to execute a go-around and flew the missed approach manually before entering a hold to diagnose the problem. Within the holding pattern the right-hand engine remained at idle despite manual thrust-lever increases and re-selection of autothrust.
The crew informed that the engine indications "appeared to be frozen", says the inquiry, and not responding to throttle input. After consulting the aircraft's operating manual, the pilots shut down the engine, declared an emergency, and conducted a single-engine approach and landing on runway 22.
During the landing roll, as the airspeed fell below 70kt, an 'overspeed protection' fault was registered but not displayed to the crew. Investigation of the incident found that inadvertent activation of the overspeed protection valve in the fuel-control system was "most likely" to have been the cause.
This valve is part of the fuel-metering unit mechanism and works to reduce fuel flow to spray nozzles if the electronic engine control senses overspeed of the low-pressure or high-pressure engine spools. Exceedance of either spool is prevented by control logic which reduces fuel flow – but does not shut it off – with the residual flow maintaining the engine at a thrust slightly below flight idle.
Similar events have occurred on other V2500s, the inquiry says, and the engine manufacturer has conducted investigations at component and system level to understand them.
"Definitive identification of the root cause has not been possible, but several factors have been identified as possible contributors," it states.
These will be addressed as product-improvement changes to the fuel-metering unit, it adds, and are intended to be available in the third quarter of this year. Airbus also regularly communicates progress on the issue to operators with V2500 engines during customer meetings, the inquiry adds.