Airbus is not specifically linking its new A350F to single-pilot operations, but it acknowledges that the entry-into-service schedule coincides with the timeline for testing initial concepts – and that it could serve as a platform.
US lessor Air Lease has become the launch customer for the freighter, a five-frame shrink of the A350-1000 which will have a payload capability of 109t.
Airbus has been looking at the potential for single-pilot operations in the longer term, and cargo services are viewed as a sector in which the concept could be tested.
Speaking as the Air Lease order was unveiled, Faury observed that the A350F – with its mid-decade entry-into-service target – will be in the "right place" in terms of the broad timeline for exploring single-pilot operations.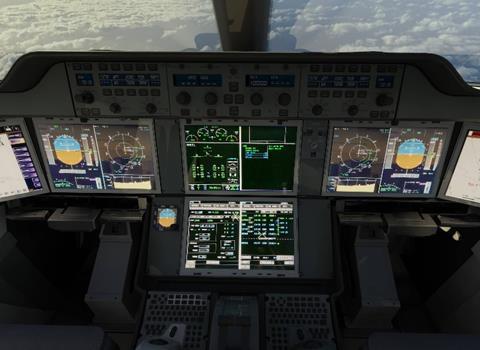 But while he suggests the freighter could be a single-pilot "candidate" he stresses that the airframer is "not connecting" the development of the A350F specifically to such concepts.
The European Union Aviation Safety Agency has embarked on a research programme to analyse the main safety hazards of two particular single-pilot scenarios, having been approached by airframers interested in reducing the number of crew on board.
These scenarios comprise extended minimum-crew operations, whereby flight times are increased by allowing single-pilot periods during cruise and enabling crew rest.
These could be introduced around 2025, coinciding with the entry into service of the A350F. The aircraft will have cockpit commonality with other A350 family members.
EASA will also look at the longer-term idea of end-to-end single-pilot operations, a more complex scenario which would demand increased support for the pilot from automation or ground services.