French investigators are probing a runway excursion involving an Embraer ERJ-145 arriving at Paris Orly airport on 20 October.
The aircraft had conducted its approach to runway 25 at around 19:15, after sunset, having flown from Rodez in southern France.
It was operated by the aeronautical group Amelia, which has French and Slovenian businesses, and whose activities include scheduled and charter services, as well as maintenance.
French investigation authority BEA says the aircraft experienced a "runway exit" on landing at Orly, and that it sent four personnel to the scene.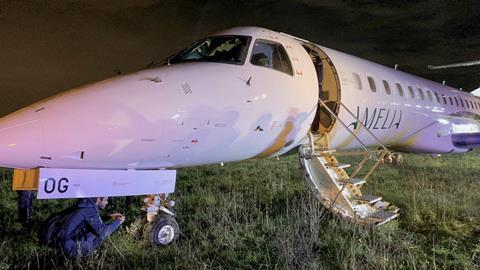 BEA indicates the aircraft came to a halt on rough ground. It is opening an inquiry into the event.
Weather conditions at the time, according to Orly airport data, show thunderstorms and rain in the vicinity and variable winds from the south and south-west.
Orly operator Paris Aeroport says all passengers disembarked the aircraft and were attended by airport personnel. The extent of any damage to the aircraft has yet to be determined.
BEA has identified the regional jet as F-HYOG, a 2001 airframe originally delivered to a division of the Belgian armed forces.