Almost half a decade after the first Boeing 737 Max crash, the US airframer says it continues implementing safety improvements designed to mitigate risks and catch issues before they become crises.
The US airframer presented its second chief aerospace safety officer report on 24 May, outlining its safety improvement efforts.
In this year's report Boeing touts more than 10 wide-ranging achievements from the past 12 months. These include use of new digital and analytic tools, communication improvements with customers, workshops, training programmes, increased employee engagement and a safety risk management evaluation with a major airline.
The Arlington, Virginia-based company established the position of "chief aerospace safety officer" in January 2021, after two 737 Max crashes – that of a Lion Air Max 8 off Indonesia in October 2018 and of an Ethiopian Airlines Max 8 in March 2019. The crashes killed almost 350 people and were attributed partly to assumptions Boeing made when designing, developing and evaluating the Max's Maneuvering Characteristics Augmentation System (MCAS), which activated erroneously during the two flights, putting both jets into dives from which the pilots could not recover.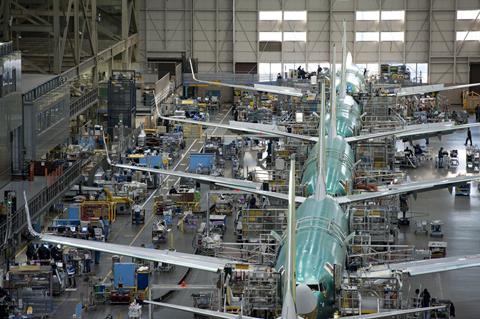 Other accident factors, according to various crash reports, included pilot actions, maintenance issues and missteps by the Federal Aviation Administration and its oversight of Boeing engineers. Such issues prompted Boeing to assess its safety culture and processes.
Boeing in 2019 realigned its engineering structure so its 50,000 engineers now report up to Boeing's chief engineer, rather than within the company's individual siloed business units.
Leading the safety effort is chief aerospace safety officer Michael Delaney, who also holds a seat on the company's executive council. Delaney was previously Boeing vice-president of commercial engineering and vice-president of airplane development.
The Max crashes prompted Boeing to create a safety management system (SMS) – a formal organisation-wide safety framework designed to "inculcate" safety into Boeing's operation. The FAA approved the SMS in December 2021.
EMBEDDED FLIGHT OPS EXPERTS
Delaney singles out Boeing's "global aerospace safety initiative", which involves embedding flight operations experts at aircraft operators to ensure those operators receive hands-on training in risk management and assessment. Lacey Pittman, vice-president of the initiative, says airlines have shown "resounding interest" in the programme.
"We have historically had the field service representatives… on the maintenance and engineering side embedded with the customers globally," she says. "We stepped back and said, what else could we provide in terms of support and working with the operators? We thought we could really balance that with a similar role on the flight operations side."
"Before we [deliver] a new airplane to an operator, we see if there are any gaps in either the flight operations or maintenance, [so] that we can help provide that safety support," she says. "When there's an operator getting a new fleet type, we send them out."
The representatives are often retired airline pilots, with an average of 13,000h of flight time each, she adds. "They're really creating this bridge of communication… There is a two-way communication flow between the operator and us at Boeing."
In 2022, the company had "more than 60 engagements" with operators globally through these flight operations representatives, she adds.
"To my knowledge to date, nobody has said no," Delaney says.
It is possible that future customers may turn down Boeing's assistance, which regulators do not mandate, at which time it will face the "hard decision" about whether to actually deliver aircraft to such customers, Delaney adds.
THE ROLE OF ANALYTICS
Part of Boeing's SMS involves collecting information and data from across the design, production and operation of its jets, including from airlines. Much data has historically been disparate and decentralised, meaning the extent to which safety issues that could be prevalent across the global fleet might have gone largely unnoticed, says Delaney.
Leading the effort of bringing that data together is Boeing vice-president for aerospace safety analytics and safety experience Vishwa Uddanwadiker.
Uddanwadiker says the tools his team is developing, and the data they produce, must go beyond trying to prevent accidents before they happen.
"A lot of people think the mission is to find the needle in the haystack," he says. "I have a slightly different safety management systems view of that. If you're looking for a needle in a haystack, you've already made up your mind that the hazard is the needle."
"I'm looking for all sharp objects in the haystack," he says.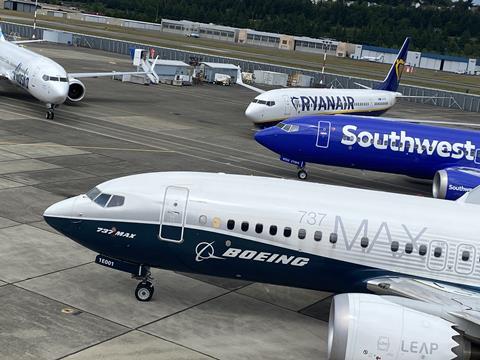 "There is a continued operational safety process which reports all unusual behaviors from the in-service fleet," he continues. "By aggregating data, we are looking for anomalies and any sort of uncertainties in the pattern."
With the data, Boeing hopes to further tighten its safety net and prevent systemic issues. But its transformation requires effort and time, and the company is "not there yet", Delaney says. "Hopefully we have people starting to see data and deviations from the norm, and then asking the question: Why is this deviation from the norm there?"
Addressing the significance of artificial intelligence in supporting safety processes, Delaney said he is still on the fence.
"It will be a tool," he says. "I'm guarded, personally. I haven't yet gotten into my head where all of a sudden there's going to be something that is going to significantly change the OEM space."
Use cases could start with human factors – pilot training or monitoring – and using data to solve ongoing aviation and aerospace challenges.
"It would be really great if we actually ever modernise the air traffic management system," he adds "Think about airplanes communicating with airplanes."
But companies will likely be reluctant to share the sensitive intellectual property needed to train the algorithms required for such sophisticated analysis, he adds.
Delaney calls Boeing's safety efforts a "journey".
"We're not in a complete rebuild," he adds. "We're building on a solid foundation and we're trying to figure out how… we go forward and also make sure we learn lessons from the last few years."