The US National Transportation Safety Board and the Federal Aviation Administration are investigating a near-miss between two commercial aircraft at New York's John F Kennedy International airport.
On 13 January a Delta Air Lines aircraft was cleared for take-off on the airport's runway 4-Left at about 20:45 local time, when an American Airlines jet began to cross the same runway, putting the two on a collision course. The Delta aircraft abruptly aborted its take-off roll, coming to a stop shortly before the American jet.
"A Boeing 737 operated by Delta Air Lines came to a safe stop on Runway 4-Left at John F Kennedy International airport Friday night after air traffic controllers noticed another aircraft crossing the runway in front of the departing jetliner," the Federal Aviation Administration told FlightGlobal on 15 January.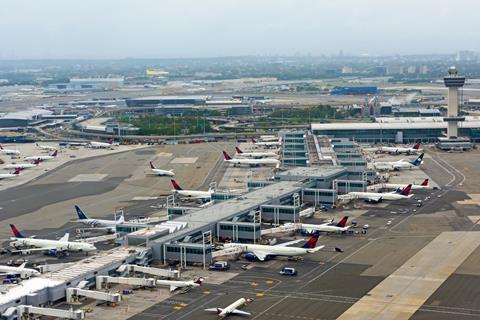 "According to a preliminary analysis, Delta Air Lines flight 1943 stopped its take-off roll approximately 1,000 feet before reaching the point where American Airlines flight 106, a Boeing 777, had crossed from an adjacent taxiway," the FAA adds.
Delta says its aircraft was destined for Santo Domingo in the Dominican Republic with 145 customers and 6 crew on board, and that it is working with investigators to find the cause of the incident, which could have ended in disaster.
"Delta will work with and assist aviation authorities on a full review of flight 1943 on Jan. 13 regarding a successful aborted takeoff procedure at New York-JFK," Delta told FlightGlobal on 15 January.
"After the aircraft stopped safely on the runway, it returned to the gate where customers deplaned. The flight was subsequently delayed overnight due to crew resources; customers were provided overnight accommodations," the Atlanta-based carrier adds. The flight left the following morning.
American Airlines did not comment on the incident, or give any details about its aircraft. The jet involved in the runway incursion had been destined for London Heathrow.
According to website LiveATC.net, which makes air traffic control recordings publicly accessible, the Delta jet was cleared to take off on the designated runway 4-Left. Shortly thereafter, an air traffic controller is heard saying, "Shit! Delta 1943 cancel take-off plans!" A Delta pilot is heard responding, "Rejecting".
The recording also suggests the American Airlines' flight crew misunderstood air traffic control taxi instructions, and crossed the wrong runway. The controller instructed the jet to cross runway 31, and not runway 4-Left.
John F Kennedy International airport is one of three airports that serve the New York City metropolitan area and among the busiest in the United States.