Investigators in Hong Kong have revealed two other serious localiser deviation incidents, both involving Virgin Atlantic Boeing 787-9s, which occurred within a few weeks of a similar occurrence to an Etihad Airways 787-9.
One of Virgin's services from London Heathrow had been conducting an ILS approach to runway 25R on 29 September last year, three weeks after the Etihad incident.
After being cleared to descend to 4,500ft and establishing on the localiser, the aircraft (G-VOWS) kept deviating to the right of the localiser and descending below minimum sector altitude.
Weather conditions at the time were good, with no significant cloud.
Air traffic control instructed the crew to execute a go-around, after which the twinjet landed safely on the same runway. None of the 249 occupants was injured.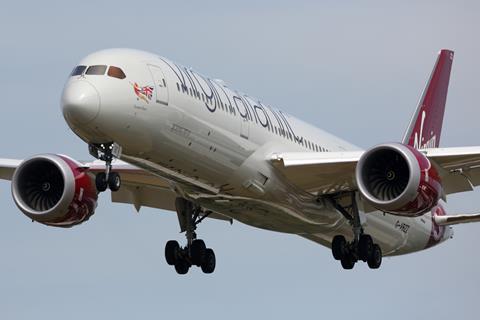 Almost three weeks later, on 18 October, another Virgin 787-9 (G-VBOW) was carrying out an ILS approach to 25R in visual conditions when the aircraft intercepted the localiser, but "overshot the intended heading", says the Hong Kong Air Accident Investigation Authority.
The aircraft diverged from the localiser course towards rising terrain to the north, it adds, before the crew disengaged the autopilot and manually re-established the jet on the ILS about 12nm from the runway, landing without further event or injury to the 271 on board.
Investigators state that both Virgin occurrences, and the prior Etihad incident, took place in the vicinity of the RIVER waypoint which lies some 16nm from the threshold of 25R.
To the north of this approach path is a mountainous area including such peaks as Tai Mo Shan, which rises to nearly 1km.
No conclusions have been reached regarding the three incidents.
Hong Kong's investigation authority says the Etihad flight, from Abu Dhabi on 7 September, had been attempting to align with the localiser, after passing RIVER during a left turn, but kept deviating to the right of the localiser path and descending below the 4,300ft minimum sector altitude.