Airbus sales chief Christian Scherer believes Singapore Airlines' endorsement of the A350 Freighter will help the airframer capture additional sales for the new cargo variant of its widebody twin.
Speaking on the eve of the Singapore air show, Scherer said it was extremely "satisfying" that SIA had tentatively selected the A350F to replace its fleet of Boeing 747-400 Freighters.
"It's a huge endorsement for us," he says, "but that's just the beginning."
SIA in December signed a letter of intent for seven units of the A350F.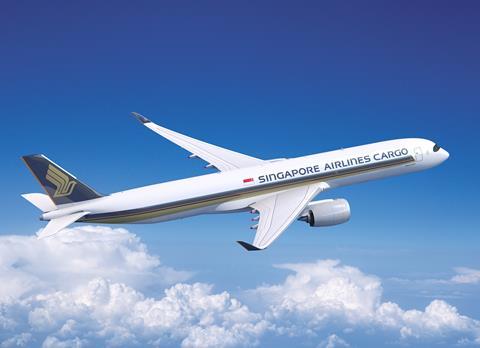 Scherer says the market is "very excited" about the new freighter, deliveries of which are due to commence in 2025.
Changes to the global freight market since the onset of the pandemic have seen logistics firms and forwarders investing in dedicated cargo aircraft, partly in response to the reduction of belly-hold capacity from fewer long-haul passenger flights.
Nonetheless, Scherer believes "that tendency will remain" in the longer term, even as international passenger travel recovers.
Meanwhile, Scherer says the airframer is "still hopeful of additional transactions in China", noting that its order backlog for Chinese carriers is "tapering".
The airframer predicts the Asia-Pacific will need 17,620 new passenger and freighter aircraft by 2040, spurred partly by accelerating retirements and sustained passenger traffic growth.
Airbus kicked off the Singapore show by bolstering its firm order backlog with the firming of agreements for almost 50 narrowbody jets.
US lessor Aviation Capital Group has confirmed its December 2021 deal for 20 A220s, while Kuwaiti carrier Jazeera has ratified its purchase of 20 A320neos and 8 A321neos, a contract first disclosed in November.